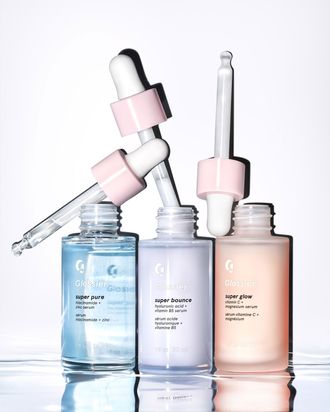 Photo: Courtesy of Glossier
Last week we got a brand-new millennial pink innovation from Glossier: a combination eye cream/lip plumper. This week, the brand is bringing back a three-year-old oldie-but-goodie. The Supers, Glossier's three skin-care serums (Super Pure, Super Bounce, and Super Glow), are now officially back in stock, and they're literally bigger and better than ever.
With the new relaunch, the packaging has been tweaked to look more photogenic on the outside, with double the amount of product inside. (It used to be 15 ml and is now 30 ml.) The percentage of active ingredient in each serum has also been increased, but the pricing of $28 across the board has stayed the same.
To refresh your memory: Super Pure (blue bottle) is made for skin that's freaking out. It clears things up with cooling formula of 5 percent niacinamide and zinc PCA. Super Glow (creamsicle bottle) is made for skin that's looking a little blah, and it brightens things up with a milky formula of vitamin C, magnesium, and 5 percent magnesium ascorbyl phosphate (a more stable form of vitamin C). Lastly, Super Bounce (lavender bottle) is made for skin that's thirsty, hungover, or jet-lagged, and it plumps things up with a silky 2 percent hyaluronic acid complex (featuring three molecular weights of HA for well-rounded hydration), and soothing pro-vitamin B5.
The resurrection of the Supers nicely rounds out Glossier's skin-care lineup. You can purchase all three at once with a Super Pack for $65 if you gotta catch 'em all.
If you buy something through our links, New York may earn an affiliate commission.