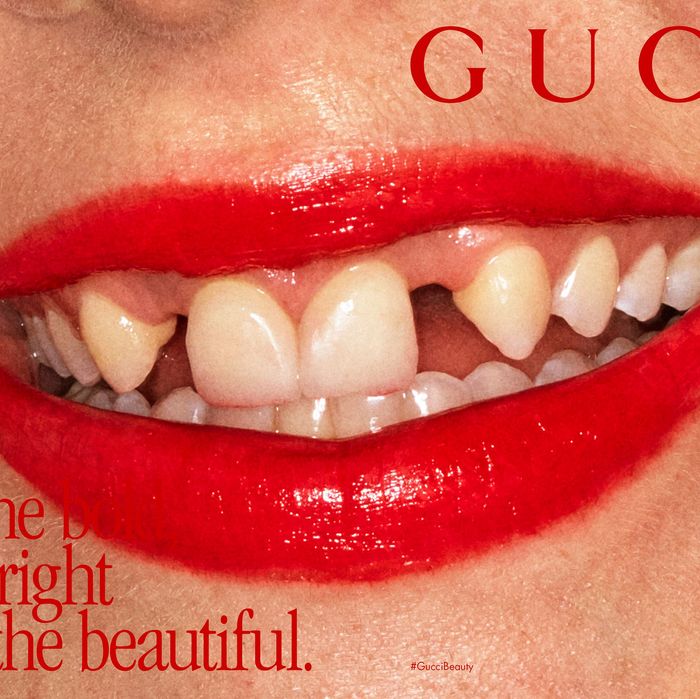 Beauty often operates in paradoxes. There's the lie of no-makeup makeup, where the contradiction lies in the name. We're told that beauty comes from within, yet the global cosmetics market is set to reach $834 billion by 2024. We hear things like there's "beauty in imperfection," yet there are thousands of YouTube videos and online stories explaining how to do everything perfectly. Everyone's advice is to embrace your flaws, but every advertisement shows glossy, smooth flawlessness.
Yesterday, Gucci Beauty released an image advertising its new collection of lipsticks that immediately polarized the internet. "This will definitely not motivate anyone to buy this fucking lipstick," a commenter angrily wrote on the brand's Instagram. The photo, shot in '80s glamorized style by Martin Parr, was perfect-imperfect and featured a close-up of the red-lipsticked, gap-toothed mouth of Surfbort musician Dani Miller. This is not the subtle gap seen in models like Lauren Hutton or Georgia May Jagger. Miller's smile is goofy, wild, visibly missing a few teeth, not incredibly white, and refreshingly and shockingly un-veneered. "For the Bright, Bold, and Beautiful," the ad read.
Gucci designer Alessandro Michele called the ethos of the collection "positive absolute liberty." In a press release obliquely referencing his choice of images for the ad, he said, "The idea of the campaign is to create a representation that is close to reality with a humanized point of view, however seemingly strange. But the strangeness is human so it's beautiful." In other words, Michele, familiar with exploring strange beauty — having showed cyborg heads and synthetic tears at previous runway shows — is continuing his exploration of the unusual and imperfect.
Michele's signature sense of maximalism is clear in the products themselves, although they don't show any hint of design flaws. Michele told WWD that he found lipstick to be "the most beautiful object you can find inside a handbag." There's an extreme 58 number of shades, with 36 fully pigmented shades with a satin finish (including ten variations of nude), four lipstick-balms, and 18 sheers. Each is perfumed with a faint hint of violet and comes in a metallic gold, rose-patterned, or teal tube, with several encouraged to be worn on the cheeks and eyes. The names come from old Hollywood actresses like Greta Garbo and Bette Davis or their notable roles — the brand even sent around a spreadsheet that listed every shade with its corresponding movie. The hero color is a classic red called #25 Goldie Red, named after Jean Harlow's role in the movie, with the 25 referring to Michele's lucky number. It is available starting now at the Saks Fifth Avenue New York Flagship and nationwide on May 29th on Saks.com
After the ad's debut, I received a few Instagram messages from people about it. About half of them loved its uniqueness. The other half were distressed about the image, for reasons they couldn't quite express, using phrases like "freaked out" and "unreal." Part of the shock factor and discomfort stems from the subtle signifiers that perfect teeth and luxury tend to convey wealth, good taste, and privilege. Do imperfect teeth destroy the fantasy of luxury, or will they make a $38 lipstick seem more accessible (making greater business sense)? With the continuing quest for greater diversity, this ad might just be giving us what we asked for. As one Instagram commenter said, "It's a funny phenomenon that folks will bang their fists on tables for equal beauty representation (rightly so), but when they're given an ad featuring a woman with a healthy nonconventional smile, they make immature and pretty weak jokes. Beauty is everywhere."