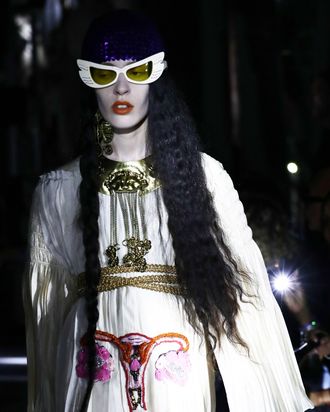 Photo: Vittorio Zunino Celotto/Getty Images for Gucci
For its resort 2020 show this year, Gucci invited fashion editors, models, artists, influencers, and celebrities out to the Capitoline Museums in Rome, which were designed by Michelangelo in 1471 and sit on a hill overlooking the city's ancient ruins. The brand presented a dramatic nighttime runway show where guests had to use flashlights to illuminate each look. Without the use of both hands, taking Instagram images proved challenging.
Gucci designer Alessandro Michele is known for collections that meld disparate times and places, and he tends to quote philosophers and poets to explain them. But this season, he made surprisingly overt political references in response to the proposed abortion bans currently sweeping America — bans that are ultimately intended to challenge Roe v. Wade at the Supreme Court level. The pro-choice slogan, "My Body My Choice" was written on the back of a blazer; one dress featured embroidery in the shape of a uterus, with blooming pink flowers for ovaries; and the date May 22, 1978 (the day abortion became legal in Italy) was printed on a matching set. Some models also wore thick temporary tattoos across their mouths, which looked like silencing tape.
In 2013, Gucci founded Chime for Change, a global campaign that funds projects around the world to support sexual and reproductive rights, maternal health, and the freedom of individual choice. The resort 2020 collection also included Chime for Change T-shirts, and the brand directed its followers on Instagram to learn more about the partners its donating to in 2019.
"Women have to be respected … they should be free to choose what they want," Michele said afterward in a press conference. He also described Rome itself as a "place of freedom," which he hoped to "glorify," and pay tribute.
Say what you want about corporate feminism, but history is perhaps the most poignant reminder of how far civilization has come, and how easy it is to go back.