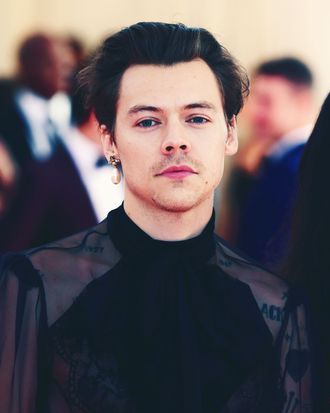 Harry Styles.
Photo: David Fisher/REX/Shutterstock
If you ask Google "What does Harry Styles smell like," the internet has a few ideas. There's a $2.50 air freshener of his face on Etsy.com. There are not just one, but two One Direction perfumes bearing his face on the bottle (one is described as having hints of "flashy mango.") But now, Styles smells alone — thanks to Gucci.
Today, the brand announced that Styles will be one of the faces of their new fragrance, Mémoire d'une Odeur. It will be a new concept exploring "the power of memories," said a press release. Sharing the job with Styles is a ensemble crew including Harris Reed (designer), Zumi Rosow (designer and musician), Ariana Papademetropoulos (artist), Stanislas Klossowski de Rola (actor and musician), Olimpia Dior (artist) and Leslie Winer (model and musician).
It will be genderless and ageless, the brand promises. Look out for it to launch in August. And Harry, when you're ready to talk about memories relating to scent, we're ready.