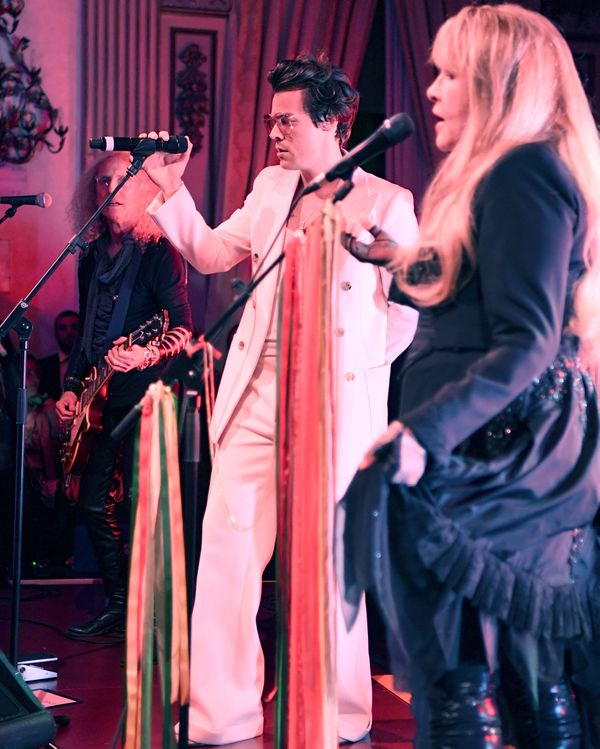 Photo: Daniele Venturelli/Daniele Venturelli/Getty Images
Under creative director Alessandro Michele, Gucci has developed a reputation for bringing seemingly mismatched people, places, and things together in a harmonious fashion. This was certainly true on Tuesday night in Rome, at a party following the brand's resort 2020 show, when the 25-year-old heartthrob Harry Styles shared a stage with none other than Stevie Nicks.
Styles arrived wearing a perfectly tailored, double-breasted Gucci suit with a wide lapel, broad shoulders, and flared bottoms. He wore it with nothing but pale pink Gucci heeled shoes and a white tank top that showed off his dainty chest tats. The all-white suit recalled similar getups worn by rock and roll greats such as Mick Jagger, David Bowie, and Sir Elton John, who was also in attendance that night and is a longstanding collaborator with Gucci.
Nicks, of course, need reference no one but herself. She wore her signature shawl on stage. The dynamic duo performed "Landslide" and "Stop Dragging My Heart Around" to an excited audience that included A$AP Rocky, Naomi Campbell, and Saoirse Ronan, who told the Cut that she'd seen Stevie Nicks perform four times before.
Money can buy you lots of things, including a Gucci suit, but it can't get you the kind of reverent, tender look Harry Styles gave to Stevie Nicks on Tuesday night.