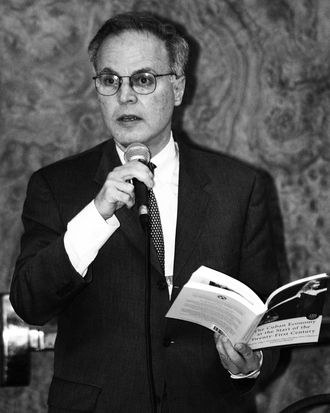 Professor Jorge Dominguez.
Photo: Keith Shimada/AP/REX/Shutterstock
Former Harvard professor Jorge Domínguez has been stripped of his emeritus status and disinvited from campus following the conclusion of a yearlong investigation into allegations of sexual misconduct against him.
In an email to the faculty of Arts and Sciences on Thursday, Dean Claudine Gay wrote that the findings from the department committee charged with investigating Domínguez "reveal a longstanding pattern of behavior that, at several points, violated policies designed to ensure a safe and non-discriminatory educational and work environment." She added, "I am appalled by the Report's findings and heartbroken for those who had to endure the behaviors described."
According to the New York Times, the committee found that "students learned to defend themselves against Dr. Domínguez's behavior … by wearing heavy clothing or avoiding late afternoon meetings."
"We believe the university and the government department failed to uphold a basic commitment: the provision of a safe and productive work environment," the report said.
Domínguez, a government professor specializing in Latin American politics, resigned last year, shortly after several women came forward in the Chronicle of Higher Education and described incidents of misconduct by the professor dating back to 1979.
Terry L. Karl, who worked as an assistant professor under Domínguez at Harvard in the 1980s, said that Domínguez tried to kiss her numerous times. She said that one night, after telling her that he would be the next department chair and would be reviewing the book Karl was writing, he slid his hand up her thigh and under her skirt, and leaned in for a kiss.
Karl filed a complaint, and Domínguez was found guilty of "serious misconduct" by the university, which removed him from administrative duties for three years. Karl decided she couldn't stay at the same university as Domínguez and left. Meanwhile, Domínguez would continue to be given leadership positions.
By the time he resigned, 18 women had come forward with allegations of misconduct against Domínguez.