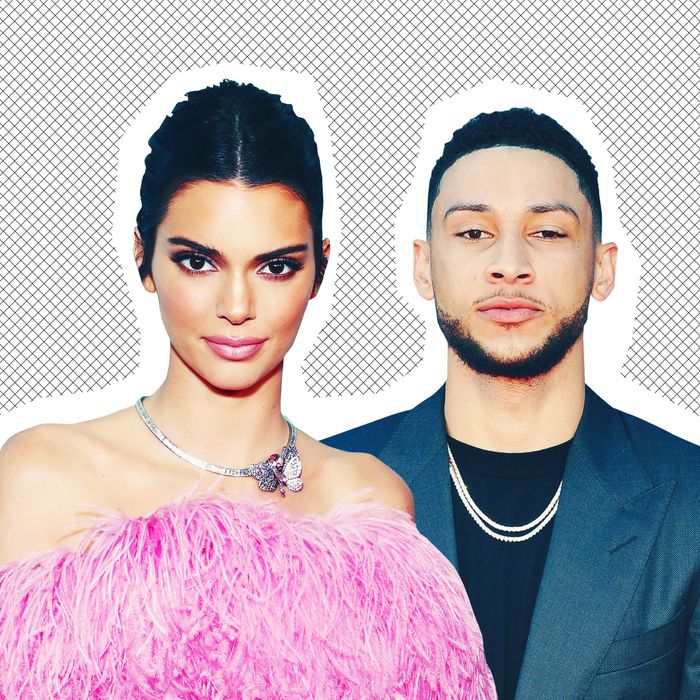 Kendall Jenner and Ben Simmons.
Photo: Getty Images
Seasons come and go and come back again. Flowers yawn open and bloom and wilt and die and bloom again. The tides rise and fall and rise and fall. The Kardashian-Jenners date NBA players, they break up with them, they get back together with them again, and they break up with them again. And on and on and on. Such is life.
The latest Kris Jenner employee to take part in this cycle of nature is Kendall Jenner, the 23-year-old model and oral-hygiene expert who, according to "Page Six," has split up with her on-again-off-again boyfriend, Philadelphia 76ers player Ben Simmons, 22.
"Sources" say that although Jenner recently told Vogue Australia that she would "maybe" marry Simmons ("Definitely not now, but maybe one day"), there was "buzz among Ben's entourage" during a recent trip he took to Atlantic City strip club Scores that he and the model had broken up.
Perhaps it was a broken heart that prevented him from enjoying his time at Scores. According to one source, "Ben was at a center booth by the stage, but when the topless girls came to the booth, he had security send them away."
Jenner and Simmons were first reported to be dating last May, although they tried to keep it under wraps, arriving separately for a lunch date at the Olive Garden at the Grove in L.A., for example. That summer, things seemed to have cooled off between the two, as Jenner was spotted making out with Anwar Hadid, Bella and Gigi's little brother, for two full hours at the CFDA Fashion Awards after-party. But then, in November, she was back with Simmons, flaunting their love all around the City of Brotherly Love.
And now, once again, spring is here, flowers have bloomed, and the Jenner and the NBA player have split. And on and on and on …