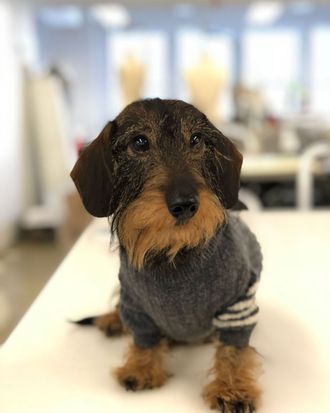 Photo: Courtesy Thom Browne
It's the first Monday in May, which means the countdown to the annual Met Gala red carpet has begun.
If you're a celebrity, you've probably been getting into shape for months. You got a massage on Saturday and a facial on Sunday. This morning, you woke up and lathered lotion all over yourself. Then, later today, teams of people will come into your hotel room, first to do your hair, then your nails, then your makeup. Finally, you'll put on your dress, or suit, or whatever you're wearing and head out the door, only to sit in traffic and take selfies and vape like crazy on the way to the Met, where you'll step out onto the red carpet and have the whole entire world scrutinize your appearance, and whether or not it lives up to an essay someone named Susan Sontag wrote 55 years ago.
All this might sound tedious and exhausting for any human being to endure, even a seasoned celebrity. But for Hector Browne, the beloved wiener dog and mascot of designer Thom Browne, who will be attending tonight's event in spirit, it's a walk in the park.
Below, watch Hector Browne get ready for the Met Gala. It will surely be the most soothing thing you see all day.