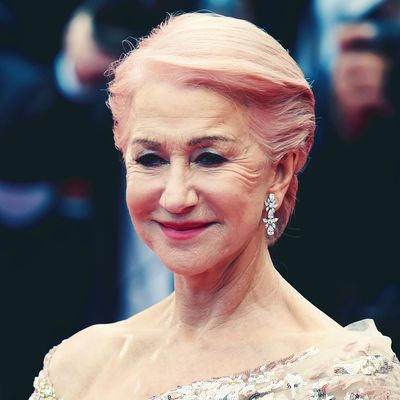 Photo: Antony Jones/Getty Images
Starting in 1946, the Cannes Film Festival has served celebrity glamour alongside ball gowns and jewels (unless you're a man, in which case you can and are praised for wearing sneakers). Yesterday, Dame Helen Mirren surpassed expectations, as she always does. While on the red carpet for the film festival, the L'Oreal Paris spokesperson wore a very shiny blush ball gown from Elie Saab alongside some shiny teardrop earrings, and added a coiffed rose-gold pixie.
The pink hairstyle was created by Stephane Lancien. It paired nicely but not too matchy-matchy with a bright coral lip, thanks to makeup by Val Garland. Surprisingly, this is not the first time that Mirren has gone pink. The 73-year-old actress last went pink at the 2013 BAFTAs.
And if you don't like her look? As she's said before on her rules for life, "ignore anyone who judges the way you look," and "I will only do what makes me feel better."