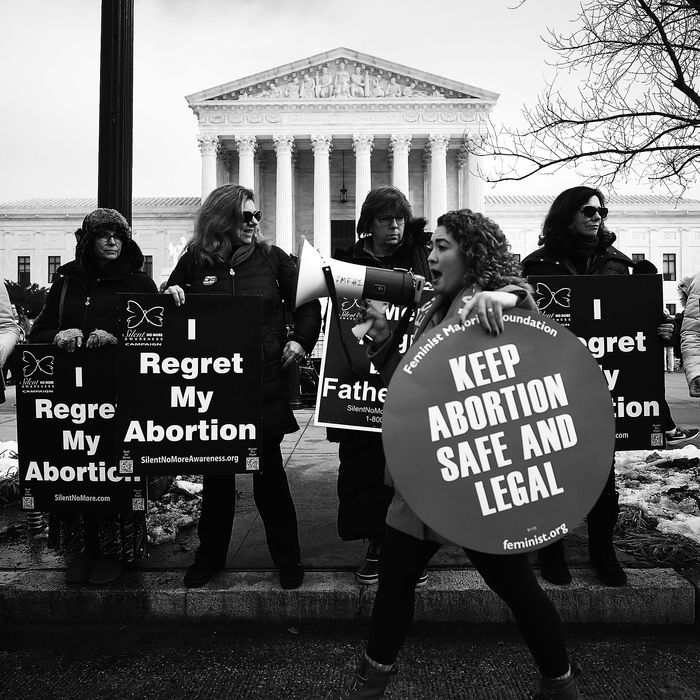 A reproductive-rights protester disrupts an anti-abortion rally.
Photo: 2019 Getty Images
On Wednesday, Alabama governor Kay Ivey signed into law the most restrictive abortion bill in the country: a near-full ban on the procedure, with no exceptions for cases of rape or incest. Under the measure, abortion would be classified as a felony, and doctors who perform the procedure could face up to 99 years in prison. (The only exception is for cases where the mother's health is at serious risk.)
The past year has seen the worrying rise of extreme anti-abortion legislation across the country, from the recent ban in Alabama, to the three states that have passed six-week bans in the last three months: Georgia, Mississippi, and Ohio. And, just hours after Ivey signed Alabama's bill, the Missouri state senate passed a near-full ban on the medical procedure. The lawmakers behind the bills don't even attempt to conceal their true intention — to directly attack Roe v. Wade, which they hope to see overturned by the conservative-leaning Supreme Court. (As of now, though, none of the bills have been enacted.)
Here's how to fight back against extreme abortion bans across the country and advocate for the people they could potentially impact.
Donate to local, grassroots organizations.
Aside from nationwide organization like Planned Parenthood, NARAL, and the ACLU, there are many smaller reproductive-rights organizations that provide support and resources to people seeking abortion in their states. A few good places to give:
• Access Reproductive Care - Southeast: ARC is a volunteer organization that helps families in 12 states across the southeast access reproductive care.
• National Network of Abortion Funds: NNAF is a network of more than 80 funds in at least 38 states that seeks to eliminate economic barriers for low-income individuals seeking an abortion.
• The Yellowhammer Fund: Based in Alabama, Yellowhammer not only provides funding for abortions at one of the city's three clinics, but also helps with other barriers to access patients may face, such as travel or lodging. (Yellowhammer is part of NNAF.)
• Mississippi Reproductive Freedom Fund: Run entirely by volunteers, the Mississippi Reproductive Freedom Fund helps people access abortion, and provides both support and resources to parents.
• Women Have Options: This Ohio-based organization provides financial assistance and support to low-income patients seeking reproductive care, abortion included.
• National Asian Pacific American Women's Forum: NAPAWF is a multi-issue community-organizing and policy-advocacy organization that fights for policy changes that would benefit women, transgender, and non-binary Asian Americans and Pacific Islanders.
• Gateway Women's Access Fund: Based in Missouri, Gateway provides both educational and financial support to people in the state who can't afford the full cost of an abortion.
Volunteer as a clinic escort.
If you live in a state with a restrictive abortion ban — or nearby one — one tangible way to support abortion rights is to become a clinic escort. Find out more here.
Or, you can always see if one of the above organizations are seeking volunteers.
Speak out about the potential repercussions of extreme abortion bans, because they're not going anywhere.
If you can't donate to organizations or volunteer, you can still vocally condemn attacks on abortion rights, and speak to those around you who may not fully grasp the chilling effect these laws have.
"Have the critical conversations with your family members and friends to activate them in the fight for abortion access and reproductive justice," Quita Tinsley, the deputy director of ARC, told the Cut. "Being clear about our beliefs not only challenges stigma, but it also shows the people that have had abortions that they have allies and supporters in their community."
NAPAWF executive editor Sung Yeon Choimorrow echoed Tinsley's sentiments, stressing that the fight against six-week bans is far from over.
"These restrictions are being copied across several states and this is part of a coordinated outside agenda to restrict our rights nationwide," Choimorrow told the Cut. "Abortion bans and other attacks on the agency of pregnant people are inextricably linked and cannot be separated from the effort to jail pregnant immigrants at the border, or raid the workplaces of communities of color … This is not the first ban of this type, and it will not be the last attempt."
This post has been updated.