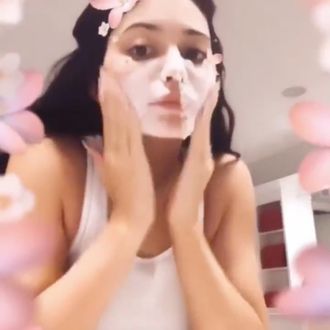 Photo: @kylieskin/Twitter
Another day, another excellent time to see what beauty-related thing Kylie Jenner is up to! Kylie Skin by Kylie Jenner launched last Wednesday, and it's virtually sold out (sets restock on June 5 and individual products restock on June 10, but you can still get the makeup remover wipes if you want to feel included in the narrative).
While those who clicked in a timely manner are busy testing out the new line, the billionaire gave the world a helpful glimpse into how she personally washes her face. Apparently, it's with the Kylie Skin by Kylie Jenner Foaming Face Wash, an excellent choice considering everyone flipped their shit when she merely held and talked about her walnut scrub.
Product aside, it seems the secret to celebrity-level skin is a good selfie filter. Kylie, like creative genius Shay Mitchell, demonstrated her skin-care routine with a filter that completely distorts what she and her actual skin look like both before and after the product demo. While Mitchell's upload bordered on performance art, Kylie, to her credit, got grittier. We actually see the product touch and sit on her face for a solid eight seconds. Progress!
If you want to copy the beauty mogul's technique at home, here's what you'll need:
- An Instagram account to access the blossom filter (the pink one)
- Kylie Skin by Kylie Jenner Foaming Face Wash
- Really long acrylic nails (coffin shape)
- A white towel you're fine getting most of your foundation on
- Hair that is not completely pulled back (try half-up, half-down or down)
- Simultaneous impatience and hesitation, as if you really want to get this over with and you've also never done this before in your life
- A sink with running water
First, wet your face (it's not filmed, so up to you), then dispense a single pump of foam into your hand. Use the bottom two-thirds of your fingers to apply the cleanser to your face for eight seconds. Do two gentle rinses with water, and use your towel to wipe the makeup off your face. Kissy duck face, and you're done!
Viewers are concerned and confused by the brevity, hair, and leftover makeup in this cleansing session, but perhaps Kylie was simply in a hurry because she has 530 other budding business ventures to tend to. Perhaps she suddenly realized the slippery liquid beneath her fingers could easily encourage a nail to slice an eyelid or two. Or perhaps she's never washed her face with a regular-person cleanser and has access to something a thousand times better that we can only dream about in our pedestrian dreams. Perhaps she was simply being benevolent by stooping to our cleansing level in an attempt to assuage what we all know deep down: that we will never become Kylie Jenner no matter how much Kylie Skin by Kylie Jenner we use.
The line seems to be getting pretty good reviews, though.