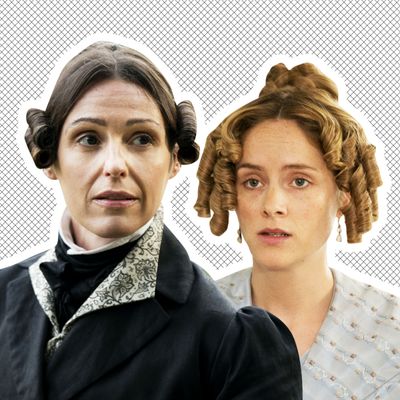 Even if you haven't watched HBO's new period drama Gentleman Jack, you've probably seen a trailer or an ad for the series somewhere and marveled at the intricate hairstyles sported by the two main characters, Anne Lister (Suranne Jones) and Ann Walker (Sophie Rundle). (If you're like me, you've also probably marveled at the women, too.) The coiffures on the show are so pronounced, so tight, so, well, 19th century that it's hard to get them out of your head. If New York City was the fifth character in Sex and the City, the hairdos on Gentleman Jack deserve their own billing in the credits.
Gentleman Jack is based on the life of Lister, a notorious 19th-century British landowner who was hailed the "first modern lesbian." The show, set in 1832, explores how Lister upends societal expectations for women as she takes over her family's estate, takes down corrupt businessmen, and sets her sights on the wealthiest woman in town, Ann Walker. (Yes, they have the same name; yes, this is queer culture.) HBO drew heavily on Lister's own writing; she was a prolific diarist, chronicling her everyday activities in some four million words and coding the salacious elements in a combination of numbers and Greek. Throughout the show, whether she's fighting back an attacker, exploring a coal bed, or eyeing women at her local bookstore, Lister's look rarely changes: She wears a black top hat with a signature set of perfectly round curls pinned just above both ears.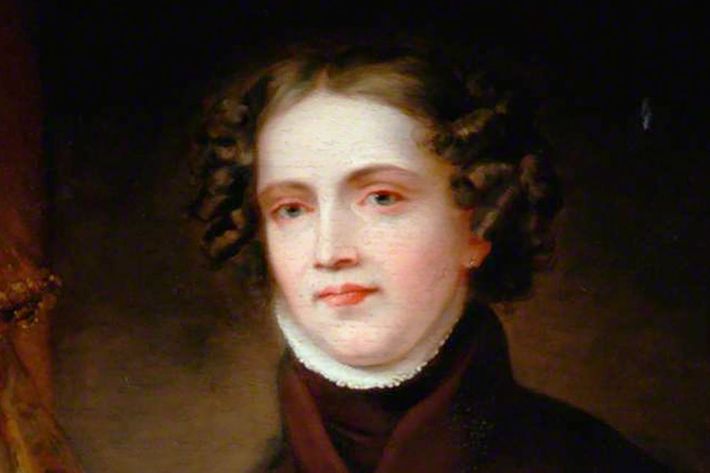 According to the show's head hairstylist, Lin Davie, on set the curls became known as "the croquettes," as in potato croquettes. The style was modeled after what women sported at the time. Davie said the team started with the two portraits of Lister and then pored over reference books to ensure historical accuracy. The croquettes are made up of a tight bun on the back of her head and two barrel-shaped curls stacked atop each other and pinned horizontally above Lister's ears. Walker has a similarly positioned, more intricately braided bun with corkscrew ringlets of that fall vertically on either side of her head. The effect is something like the ears on an English Springer Spaniel but curlier.
"I was really keen to make Anne [Lister] different to everybody else," Davie said. "I wanted Anne to be just a little bit cooler than the rest because … Anne was cool. She was a woman ahead of the curve." Davie is right. Anne Lister was cool. A woman running her own estate was virtually unheard of at the time. She said what she wanted, dressed how she wanted, and loved whom she wanted. She lived life on her terms in a time when those terms were extremely limited and being a lesbian didn't really even have a term yet. Who wouldn't want to emulate that?
When I asked Davie how I could attain the look, she laughed and warned me that though the style looks simple, it's deceptively tricky. "Hers is the hardest one out of everybody because you have to get those curls really tight at the side, otherwise they won't stay firm," Davie said. She told me to part my hair down the middle and think about the style in sections. "Take a section from the crown and leave two front sections out," she said. "Scrape back the hair into a ponytail from the crown and make a bun with that bit." Next, she instructed me to wrap each section of hair around a small piece of wooden dowel, slide it out gently, and pin the curl in place. (The top curls on Lister's head are pinned in pieces of fake hair.) Okay, I thought. That seems doable.
Parting my hair down the middle and putting it in a bun was easy. One hair tie later, I was feeling pretty good about myself and confident in my abilities. Using the finest tools available to me — i.e., whatever was already in my apartment — I tried to follow Davie's instruction. Lacking a wooden dowel, I found a pencil and snapped it in half. The pieces were a bit longer than three inches and not nearly as thick as Davie's dowel. But still, I thought, this will work. And it seemed like it would! I wrapped the right section of my hair around the pencil, but each time I'd try to slide the pencil out to pin the curl to my head, the curl fell apart before I could pin it in place. Worse, on several attempts the jagged edges of the pencil got stuck in my hair as I pulled it out, which was not terribly comfortable and a very good way to mangle the curl beyond recognition.
Surrranne Jones, the actress who plays Lister, appears to have hair texture pretty similar to my own: medium thickness and fairly straight. But the big difference, I realized as I stabbed myself with a pencil, is that my hair is shorter and full of all sorts of layers. Eventually, I just gave up. The closest I got was a single curl pinned over my ear and holding on to several bobby pins for dear life. Without more length and hairpieces, I just wasn't going to be able to make it work. I did not look like the landowning 19th-century lesbian of my dreams. I looked like an apartment renter from 2019 holding a pencil shard in her bathroom.
The other night, I pulled my girlfriend's hair out of its usual knot on the top of her head in another lame attempt to form the elusive croquettes while we were sitting on her couch watching the latest episode. "It's fine, keep watching, I just … why can't I get my hair to do that?" I wondered aloud, playing with her curls. She reached for the remote and turned up the volume.