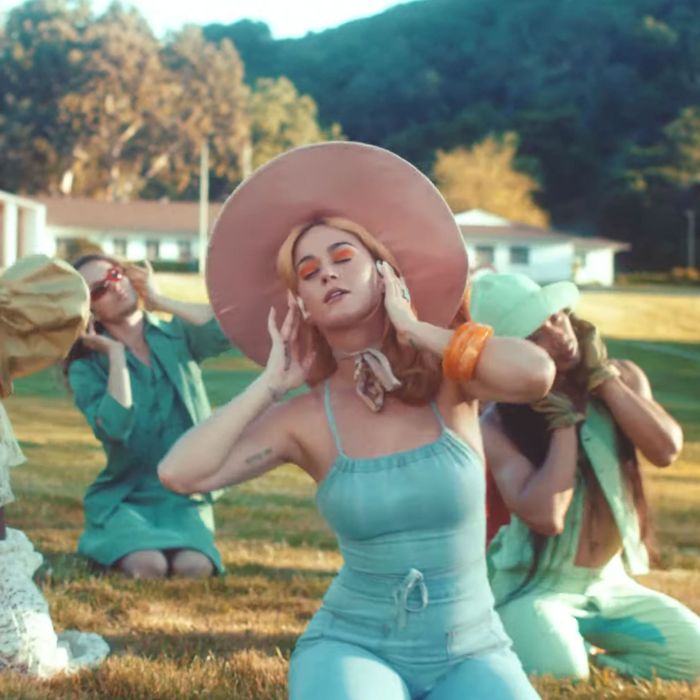 Photo: Katy Perry/Youtube
Today Katy Perry released the music video for her comeback single "Never Really Over," which also strongly resembles a commercial for an upscale wellness retreat. Take a little bit of In Goop Health, sprinkle in a dose of Spirit Weavers, and you have whatever this is: a kaftan-clad utopia full of movement classes, alternative healing, and people using the word "goddess" in casual conversation.
Below, an imagined schedule of events:
6:00 a.m.: At KatyFest, we know the hardest part of getting to a festival or retreat is arranging transportation. Thankfully, for a small fee of $250 (before tax), you can purchase a bus pass for one of Katy's custom shuttles.
8:00 a.m.: Once you've settled into your assigned glamping yurt, pull a card from the custom deck beside your bed to receive your affirmation for the day. Setting a daily intention can be a great way to harness your most authentic self.
9:00 a.m.: For your first activation, unwind with a silent disco using the free Beats by Dre™ headphones included in your welcome basket. Make sure to Instagram yourself and use the hashtag #BeatsByDre for your chance to win a free trip to Ultra Music Festival in Miami!
10:30 a.m.: Time for a mid-morning ecstatic dance class to loosen your chakras.
11:30 a.m.: Once your chakras are good and loose, we transition into the part of the schedule labeled "open play." It's not an orgy, but it's also not not an orgy, you know?
1:00 p.m.: After lunch (not pictured) our on-site mental health professionals slash fitness influencers advocate tug-o-war as a great way to relieve stress and tension productively, while also burning calories and building muscle tone.
2:30 p.m.: In the afternoon, relax with a complimentary acupuncture or cupping session provided by one of our wellness practitioners.
Don't worry if you hear screams from neighboring yurts — that's how you know the treatment is working!
4:00 p.m.: The Earth is so important! That's why we try to make our retreat 100 percent sustainable and eco-friendly. Say "thank you" to mother Gaia by recycling your used bottles and tying them to a tree.
5:00 p.m.: Make sure to pack some retreat-appropriate garb for our evening session. A tie-dye kaftan is a great way to stand out and express your individuality. Plus, best tie-dye kaftans will have the opportunity to be featured on our retreat Instagram feed.
5:30 p.m.: Want to treat yourself like the goddess you are? With your VIP pass, you get access to a range of influencer activations, including our Revolve pool party. (Optional add-on: $2,500 before tax.)
8:00 p.m.: In the evening, unwind by the bonfire and share your experiences in our gratitude circle. After that, we'll go around the circle and say one thing we're thankful for, and one thing the person sitting next to us needs to work on in order to become their most authentic self.
9:00 p.m.: This is the part of the day where we take drugs.