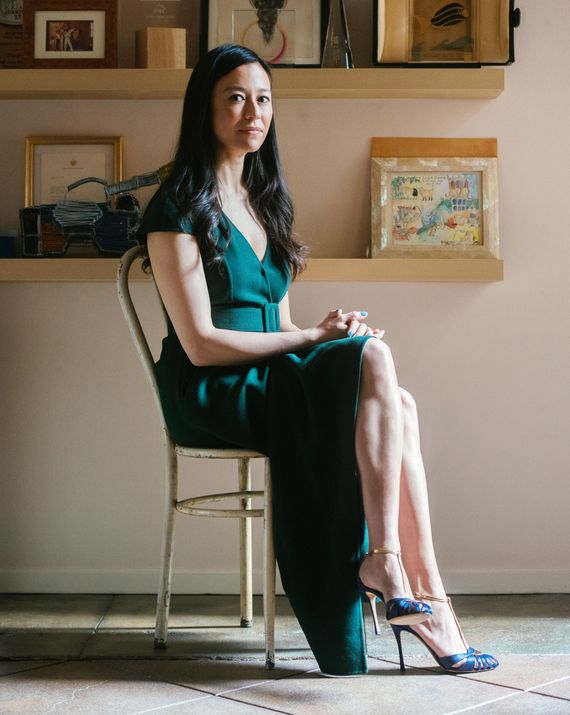 Watching National Geographic's Free Solo is not for the faint of heart. The documentary chronicles rock climber Alex Honnold's successful ascent up the vertical rock formation El Capitan without a single safety rope. As harrowing as it might be, the movie is also a love story between Honnold and his girlfriend, Sanni Mccandless. The combination of fantastical adventure and human emotion had enormous crossover appeal, earning the husband-and-wife team of Chai Vasarhelyi and Jimmy Chin the Oscar for best documentary.
Vasarhelyi began her career in documentary filmmaking while studying at Princeton University. Her first film, A Normal Life, about young people in war-torn Kosovo, began as her senior thesis project and won the Tribeca Film Festival. She went on to work as director Mike Nichols's assistant before making her second documentary about Senegalese singer Youssou N'Dour. In 2012 Vasarhelyi met Chin. Their first movie, Meru, would go on to win the Sundance Audience award in 2015.
The Cut caught up with Vasarhelyi just days before she left for Patagonia, where she's been working with Chin on a documentary about conservationist Kristine Tompkins. Read on to hear about what she wears to pitch meetings, how it felt to go through the awards-show circuit, and why she believes in an all-black uniform.
On what she wears to a pitch meeting: My objective is to exude confidence, competence, and a certain memorable allure — without feeling overly fussy. I feel most comfortable in a pair of boots with a heel, black jeans, and a blouse or sweater. My go-to outfit is probably a pair of Ann Demeulemeester boots that I've owned for 15 years, black Frame jeans, an old black Proenza Schouler turtleneck with white paint splashes, and my very old Rick Owens black leather jacket.
On what she wears while on location: You need to be comfortable enough to get down in the dirt and carry heavy equipment, but put-together and presentable enough that your subjects respect you. I have a uniform that consists of dark jeans (Mother and Nili Lotan are other favorites!) with a Banana Republic long-sleeve T-shirt and a leather jacket. The only thing I switch up is my sunscreen strength!
On collecting clothes: I have a handful of Proenza Schouler maxi dresses I've bought on sale over the years. But when it comes to collecting things, it's mostly objects or pieces I've found in my travels. I love a carpet I bought in Afghanistan, a wicker basket that I use as a purse that I bought in Patagonia, and beads that I found in West Africa.
On what she wears daily: I'm always wearing black jeans and a blouse or sweater plus a nice coat in the winter. Footwear is key — I've worn the same pair of gray wool Celine sneakers for a long time. It's been so long that my brother suggested I try to buy a new pair on the Real Real. Luckily I found some.
On dressing for the Oscar circuit: I make documentaries, so the concept of dressing for Oscar season was very far away from my day to day, or even my wildest dreams. I didn't anticipate the fast pace of everything — there are a lot of events. About one month in, I realized I just couldn't keep up. Thankfully three of my close friends came to help.
They helped pull clothes for me and find things on sale that could also work outside of awards season. My favorite looks were a peach Chanel dress I wore to the Oscar nominees luncheon; a pink one-shoulder Valentino gown I wore at the Baftas; and, of course, the Oscar de la Renta white gown I wore to the Oscars. They even sent a matching white dress for my 5-year-old daughter! All together, the clothes probably cost more than my first two documentaries.
On her style evolution: It's probably gone downhill, actually. In the beginning, I would lean on my mother's closet and her superb taste. Growing up I remember my mom's business suits and high heels defining success and sophistication for me. As I get older, I get more confident in my own taste, but it will never live up to my mom's. Also, I just can't spend the time I used to thinking about what I look like.
On the challenges of her job: The difference between fiction and nonfiction filmmaking is that in nonfiction you never truly know what is going to happen next. When you have a problem, you can't write your way out. But that often leads to the most exciting or innovative creative solutions. I love to find and share transformative and moving stories.
Shop the Story
If you buy something through our links, New York may earn an affiliate commission.