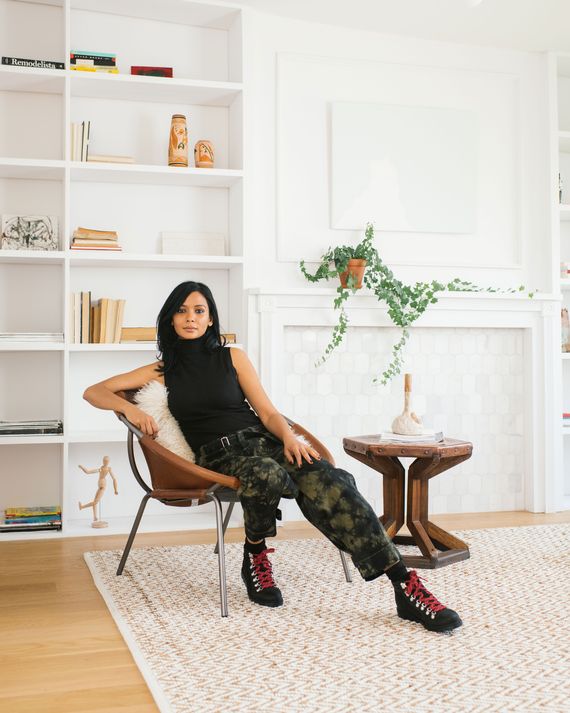 To some people, renovating a home sounds like an expensive headache. But to Soiti Roy Anderson, it's a creative outlet. Anderson's six-person company is known for an aesthetic that combines minimalism with warmth. She describes her vision as a mix of Scandinavian and South Asian design principles (she's of Bengali and Burmese ancestry), and you can see it in her own home, where the pillars in the living room are painted pastel pink and the bedroom is dominated by a stark, massive bathtub.
Anderson's approach to interior design also applies to getting dressed. A self-described minimalist, she likes to balance comfort (she spends most of her time on construction sites, after all) with well-made basics. The Cut caught up with her at home, where she talked about how to make work boots look stylish, her love of all-white outfits, and why her clothing choices can make or break a client deal.
On what she wears daily: My go-to shoes are either Sorel boots or Nike Dunk Sky Hi wedges. I'll wear them both in winter and summer — they don't look chunky, and they work equally well with my outfits. They both have felt linings that feel nice against my skin, and they add just enough height that I feel stylish and comfortable.
On what she wears to big meetings: I like to wear crisp white outfits — they have a calming effect in an intense environment, and they give me extra confidence. I like to throw my Helmut Lang blazer over a simple Acne or COS white dress. Or I'll wear it with a white oversize Hanes T-shirt and Levi's jeans.
Shop Minimal White Dresses
On her unique fashion needs: My job requires a significant amount of time walking around in construction sites or dilapidated buildings. For safety reasons, I have to wear waterproof, hard-toe boots. Timberland and Sorel have great designs for women in construction. I like to wear them with loose jeans or trousers so they look more pulled together.
On going out after work: I like to style my evening outfits similarly to what I wear to work during the day. I'll start with a pair of designer sneakers (I have a flashy black-and-gold pair from Giuseppe Zanotti) or booties. On top of that, I'll do a pair of black silk tuxedo trousers with a matching black silk top. It's my favorite — it's elegant, stylish, and a bit androgynous.
On her go-to Monday outfit: It's a vintage tee worn with jeans. One of my favorite hobbies is hunting down soft tees in vintage stores, and I have a small collection of them. If I'm not wearing boots, I'll wear espadrilles. My favorites are by Soludos and Tory Burch — they're tropical and especially fun on summer days. On colder days, I'll wear slouchy Levi's overalls with a Zara turtleneck and a pair of Sorels or Doc Martens. There's something so stylish about how overalls look gathered inside a pair of tough combat boots.
On whom she dresses for: My style is an expression of my creativity, my strong affinity toward minimalism, and my color of interest at any given time. I try to inspire my clients and colleagues with my aesthetic choices, plus they get a sense of what I am thinking. A well-executed outfit is also a great conversation starter with potential clients.
On how her style has evolved: I wear clothes as a clear statement of my design choices. I enjoy observing their impact on others. Starting out, I used to wear a lot of affordable monochromatic items. My go-to outfit was a Zara or Steve Madden platform heel with a Zara or J.Crew dress or suit. I still keep my look fairly monochromatic, but I've upgraded to higher-end brands, plus I'll add in denim (albeit paired with a nice blazer!).
I'll invest in blazers and trousers from brands like Helmut Lang, Victoria Beckham, and Proenza Schouler. They're classics and really do elevate my outfits. I also no longer wear anything higher than a three-inch heel. I want to be able to move! It's a message I want to send to my creative clientele: I'm strong yet accessible.
Shop the Story
If you buy something through our links, New York may earn an affiliate commission.