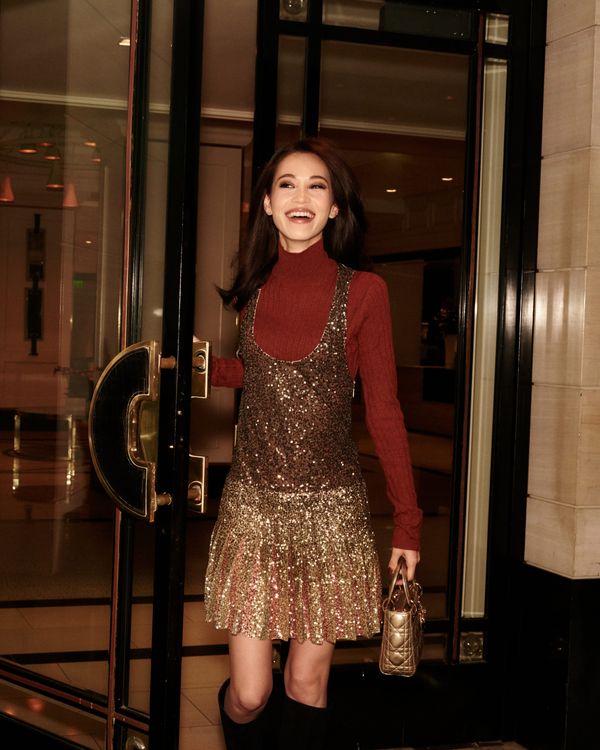 Photo: Courtesy of Dior Beauty
Model and actress Kiko Mizuhara might be the most famous woman in Japan — and not just on Instagram, where she has 5 million followers. Walk around Tokyo, and you'll see Mizuhara's face smiling at you from billboards and subway video ads. She's been on over a hundred magazine covers, walked in Alexander Wang's runway, collaborated on four separate occasions with Opening Ceremony, and starred in the Weeknd's video for "I Feel It Coming."
Mizuhara is one of those rare models who isn't afraid to be the first person dancing at the party. She actually smiles in photos. Last year, Dior took advantage of her naturally outgoing personality to make her their first Asian ambassador. The Cut caught up with her in L.A. at a party for the brand's new Rodeo Drive pop-up to talk about Japanese beauty, feminism, and her favorite kind of cookie.
You're widely seen as the face of beauty in Japan. How would you define what that means?
It's so hard to say what beauty is in Japan, because I think that everyone's definition of beauty differs. Each person finds beauty in different things, and I think that's good. Being able to say "Oh yeah, that's beauty, too" — that kind of big heart opens you to more possibilities.
How has feminism been evolving in Japan?
Thick-headed men still are the majority. But I do see women trying hard to change things, and people have started to recognize that women need human rights. Little by little, it's getting better, even if equality isn't here yet.
As the first Asian ambassador for Dior, what message do you hope to convey about Asian representation? Are you hoping to help dismantle stereotypes?
I don't really understand this question, because for whom am I supposed to dismantle stereotypes? I don't feel the need to represent Asian women because Asia has always had its own beauty and makeup culture. I'm not the one with stereotype, so I can't dismantle it.
When I travel around Asia, I don't see just one kind of woman. Asian women are all very fashionable and beautiful. Every country has its own beauty culture. People from any country can find new ways to express themselves using makeup, and I hope to be someone who can bring that out in everyone. I don't see myself as representative of all women in Asia, but as a woman, I want everyone to know how fun makeup can be.
Okay, rapid-fire round …
What is your nighttime beauty routine like? Take a hot bath, adding hydrogen or bath salt into the water, and rest my body. I then drink a lot of water (about a liter a day).
What are your favorite snacks? Alfort (a Japanese chocolate-covered cookie), and Chinese dried plums.
What time do you go to bed? It differs by the day. I don't actually have a strict rule about it.
What do you do for jet lag? I don't really get jet lag, and I don't care how much I sleep. I actually don't need that much sleep!
What is your favorite Japanese word or phrase and why? 十人十色 (Juu-nin to-iro). It means that when there are ten people, there are ten colors.
Everyone is different. Because regardless of gender, nationality, and age, that is the truth!
Matte lips or glossy lips? Glossy.
What's on your phone's lock screen? An airplane drawing by an artist.
What's the last thing you binge-watched? Sex and the City, on the airplane.
What's the last song that was stuck in your head? Magic Man by Heart.
When's the most nervous you have ever been? When I do auditions in English.
How often do you get asked for selfies? Hmm … when I walk around town, maybe three or four times a day.
What's the last text you sent? "Call me when you wake up." To my sister Yuka.