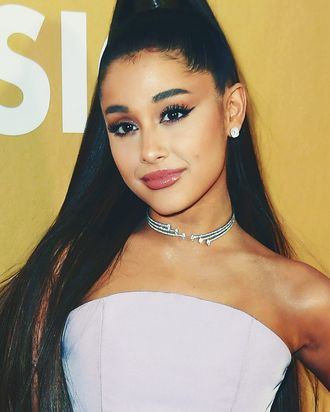 Ariana Grande.
Photo: Angela Weiss/AFP/Getty Images
It hasn't been 100 percent confirmed yet, but it's safe to say that you'll be seeing Ariana Grande on even more billboards, and wearing lots of Givenchy. The French house and designer Clare Waight Keller posted a video of a silhouette of someone with a super-high, long ponytail and a jawline that could cut someone. The caption read, "THE NEW FACE OF GIVENCHY, REVEALED TOMORROW."
As many commenters noted, it's not the most cryptic message, so a preemptive congratulations to Ariana! Per Waight Keller's post, she'll first appear in the winter 2019 campaign. She joins an impressive roster of official ambassadors and Givenchy fans. Waight Keller frequently dresses Meghan Markle (including her wedding gown), and the Times called Audrey Hepburn the "original brand ambassador" for her relationship with Hubert de Givenchy.
Updated Friday, May 10, at 11 a.m.
It's official! Ariana Grande is the new face of Givenchy. Her first ad campaign for the brand will come out in July. In a press release, Grande said, "Not only is the clothing timeless and beautiful but I'm proud to work with a brand that makes people feel celebrated for who they are, and unapologetic about whatever they want to be."