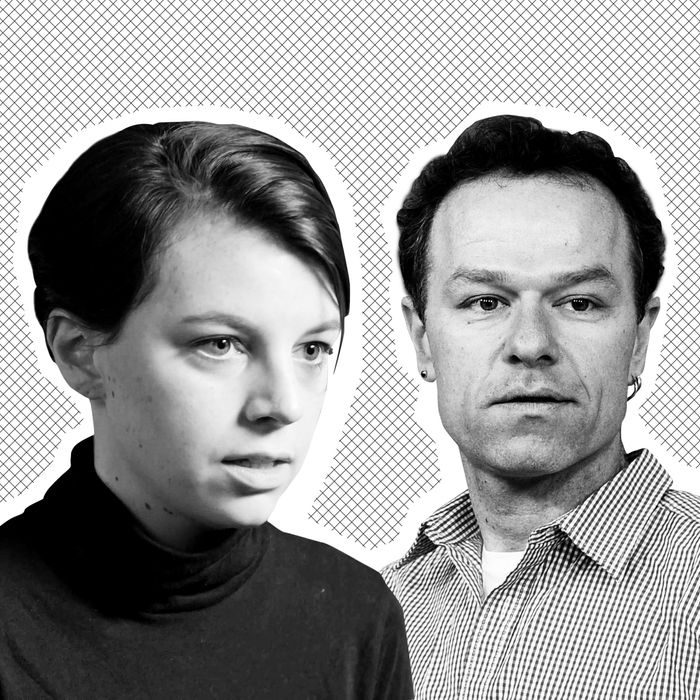 Moira Donegan and Stephen Elliott.
Photo: Courtesy of The New York Times and Getty Images
On Wednesday, attorneys representing writer Moira Donegan, who created the "Shitty Media Men" spreadsheet, served a motion to dismiss Stephen Elliott's amended defamation complaint against her. Elliott, also a writer, was featured on the spreadsheet, where he was anonymously accused of sexual misconduct and assault, including allegations of "sexual harassment" and "rape," which he denies.
For the better part of a year, Elliott and his legal team have aggressively pursued damages from Donegan for creating the spreadsheet on which he was named. He's also been doggedly — and so far unsuccessfully — attempting to get Google to turn over the names of everyone who contributed to or viewed the list, which contained the names of more than 70 men anonymously accused of sexual misconduct and was circulated briefly in October 2017. (According to Donegan's legal team, Elliott is still in the process of issuing a subpoena to the company.)
In October of 2018, Elliott filed a lawsuit in New York against Donegan, suing her for defamation and emotional distress, and seeking at least $1.5 million in damages. In March, Brooklyn federal judge LaShann DeArcy Hall ruled that Elliott must significantly narrow the scope of his suit, dismissing his complaint of negligent infliction of emotional damage, while still allowing him to sue for defamation if he amended his complaint within two weeks, which he did.
Elliott's amended complaint offers three theories of malice, summarized in the motion: "that Ms. Donegan personally fabricated the statements; that she served as a scribe to someone else; and that she didn't write the statements but is liable for circulating them."
In response, the motion argues that Elliott's complaint should be thrown out because the Communications Decency Act (1996) "protects providers and users of online services from liability where they didn't author unlawful content or contribute to its unlawful character," and because Elliott fails to demonstrate actual malice. The motion concludes that Elliott's amended complaint is "deficient."
In demonstrating this lack of malice, the motion contends that Donegan and Elliott had no prior connection, that "they are neither friends nor enemies or colleagues," and "Mr. Elliot identifies no reason at all why Ms. Donegan would reach into the void and randomly accuse him on rape."
Donegan's motion points out that "there must be sufficient evidence to permit the conclusion that the defendant in fact entertained serious doubts as to the truth of his publication," and that an essay she wrote for the Cut in January 2018 outing herself as the creator of the list shows that she believes women who make allegations of sexual misconduct and abuse:
"Simply put, Ms. Donegan presumptively believes women who say they were raped. She believes them even when they speak anonymously, for fear of backlash or judgment or retaliation."
Donegan's lawyer and Time's Up legal defense fund co-founder Robbie Kaplan said in a statement to the Cut:
"[Donegan] wrote an article that we all know about that actually explains what she did, how she did it, and why she did it. That article completely contradicts and rebuts every one of their allegations. And you can't cherry pick … It's an honor and a pleasure to have a client whose own words in her own article serve as such an effective defense to the claims brought against her. I don't think I've represented any client who's as good a writer as Moira."
Kaplan added that she felt confident her argument would prevail: "We think the judge will dismiss the complaint. The judge told them the original complaint was insufficient and there's nothing here that's all that different from what she saw the last time."