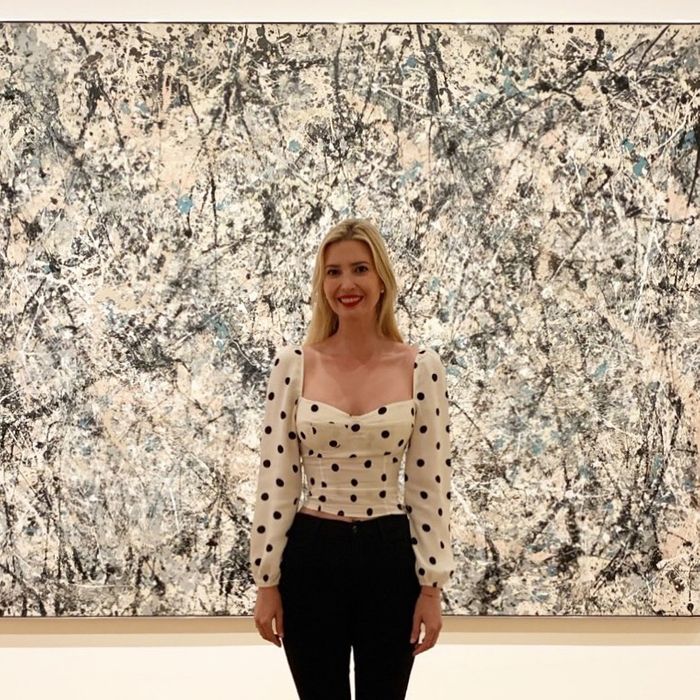 Photo: Ivanka Trump/Instagram
Tomorrow is the first day of June, which means that from here on out, every time you attend a wedding, or graduation, or rosé gathering on a roof, it will almost certainly involve at least one person wearing something from Reformation. The eco-friendly California fashion brand, which was founded by Yael Aflalo in 2008, has become a go-to destination for flattering summer outfits like off-the-shoulder frocks and frilly blouses (they recently launched strappy sandals, too). Fans, or "Ref Babes," as they're commonly known, include everyone from Emily Ratajkowski to Karlie Kloss, to … Kloss's proud sister-in-law, Ivanka Trump? Uh oh.
On Thursday, the first daughter and adviser to the president of the United States shared an Instagram image of herself wearing what appears to be a polka-dot blouse from Reformation in front of a Jackson Pollack painting at the National Gallery of Art in Washington, D.C. "Blending in and blown away by Pollock," she wrote in a caption that, in classic Trump family fashion, was very clearly not reflective of reality.
Blending in or not, her top was a dead giveaway. As someone who owns pieces by the Reformation, I'm all too familiar with the brand's signature combination of on-trend style and form-fitting tailoring, and the top's "sweetheart" neckline and poofy sleeves tipped me off. Sure enough, it's called the Reign Top and goes for $148 dollars. It's also pretty cute.
What does it mean that Ivanka Trump shops at Reformation like everybody else? This isn't the first time she's worn the brand, so she isn't just copying her favorite sister-in-law. And it's hard to imagine she's into it for its well-advertised sustainable practices. Perhaps she just wanted to show off for Jackson Pollock.