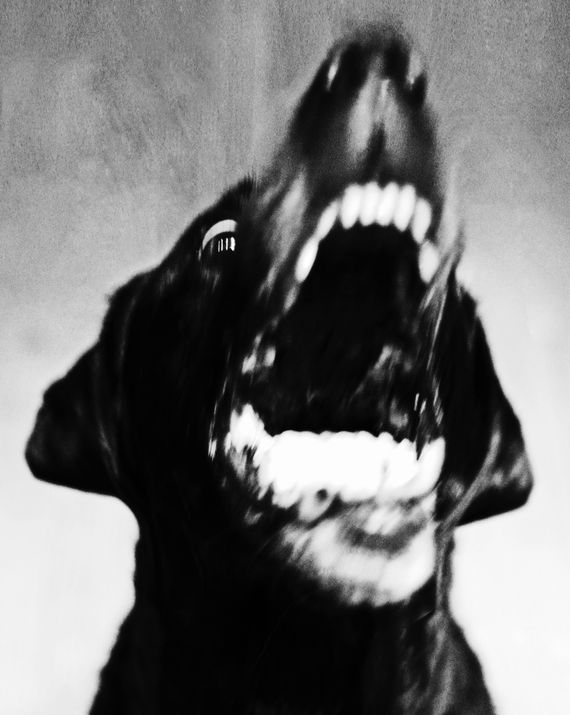 If you stumbled upon one of Jack Davison's photographs without knowing his work, it would be hard to pinpoint what decade it was from. Many of his images are black-and-white, and the level of contrast and graphic use of light makes them feel like cinematic treasures from decades past. The subject matter is often surreal or odd, like a dog licking an egg off the sidewalk or puppeteers carrying giant faux horse skulls. But then there's a photo of Michael Caine, or Glenda Jackson on the cover of the New York Times magazine, and you're back in the 21st century. Davison is one of the most exciting young photographers in Britain (and beyond) and now he's releasing his first book, Photographs.
The book spans most of Davison's career as a photographer, starting in 2007, when he was 17. "I wanted to be an artist as a child, but couldn't quite get my head around painting. I started using my dad's little point-and-shoot digital camera at the age of 15 or 16 and really just fell for the medium," he said. These days, he shoots for the Times and British Vogue. He's known for a kind of brooding portraiture that appeals to fashion and art people, though he doesn't consider himself a "fashion photographer." When clothes are visible in the shots, they're usually supporting players, boosting the dreamlike quality of the image.
Davison's muses are varied — he cites his wife Agnes, his dog Radish, the internet, Salvador Dalí, a book of mugshots, and 1950s street photographers as inspirations. "Muses are everywhere and can be anything to me," he said. "When the sun is out and it's creating shadows, that's usually when I'm at my happiest photographically." Photographs by Jack Davison is published by Loose Joints, £40, and is available on their website. See more of his photos below.