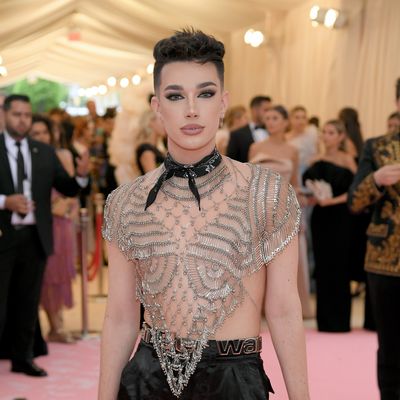 Photo: Neilson Barnard/Getty Images
I know what you're thinking: Makeup vloggers go on tour? Indeed they do. We all have so much to learn!
James Charles announced on Friday via Instagram Story that he was canceling his nationwide "Sisters Tour" in the wake of roiling drama with fellow beauty influencer Tati Westbrook, a saga too tortuous to recount all of here beyond the basics. Charles was Westbrook's mentee. A few weeks ago Westbrook, who was under the impression that Charles had betrayed her by promoting a hair vitamin line that's a direct competitor of her own, posted a wildly popular YouTube video calling out Charles on past behavior. The video was seen by many to have "canceled" Charles, who subsequently apologized and tried to set the record straight.
E! News reported that on Friday Charles declared in a 10-minute-long Instagram Story video:
"I made the decision to pull the tour. This was 100 percent my decision. None of the venues pulled out, none of the brands that were going to be sponsoring it pulled out and keep in mind, it was almost completely sold out and still, less than one percent of people who bought tickets contacted about refunds … The Sisters Tour is not being canceled because I was 'canceled.' Let's make that clear. I made the decision for a lot of different personal reasons."
Charles added that he's not in a great place, saying, "I'm not better and I'm not back either but I am trying to move on with my life and focus on good things that make me happy … with that being said, I'm still not doing well."
So what exactly is the nation missing out on? The tour's website describes the event as "an evening full of beauty, music and personal conversation with James." It was planned to be a "highly immersive and interactive show will make the audience feel like part of the production — with on-stage beauty tutorials, live music, games, an interactive Q&A session, surprise giveaways, exclusive merchandise and much more." Oh well.
The 20-year-old makeup influencer promised a tour at a later date, one that "will be even more epic than before."