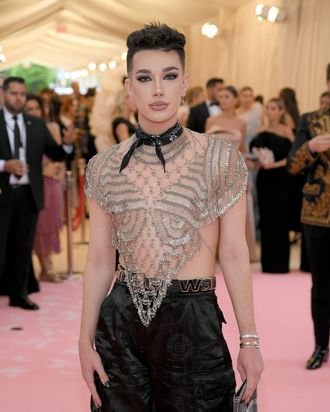 Photo: Neilson Barnard/Getty Images
How are these beauty vloggers' feud videos so damn long? Are they the daytime soap episodes of 2019?
On Saturday, James Charles posted a filmed monologue titled "No More Lies" that continues to address and atone for certain aspect of his ongoing drama with fellow beauty vlogger and former mentor Tati Westbrook. "I will not ask for sympathy and I will definitely not ask for forgiveness either, but I will ask that you watch this entire thing all the way through before forming any further opinions or talking about this story more," he begins in the 41-minute-long video.
Charles says the aim of this additional video is that it be the last word on the matter: "It is very important to me that this video has all the information, all the facts, all the receipts, and is current and present because I will not be addressing it again." But surely there will be a response from Tati that will keep this weeks-long feud, which began with gummy vitamins and ended with James's putative cancellation, burning strong.
In the video, Charles addresses Westbrook's allegation that he'd orchestrated a contract with one of her supplement competitors, SugarBearHair, while at Coachella in April, saying the deal was actually made on the spot. Charles provides screenshots of texts as proof. He also contests Westbrook's claim that he never gave her a courteous heads-up about the sponsorship, displaying more text message receipts to back up his claim.
In response to Westbrook's claim that he'd "tried to trick a straight man into thinking he's gay" at her birthday party in Seattle, James says "I am a 19-year-old virgin … I really don't get a lot of action … I have never, and would never, and will never use my fame, money, or power to manipulate or get any sexual actions from a guy. That is disgusting."
So that's that on that? I hope?