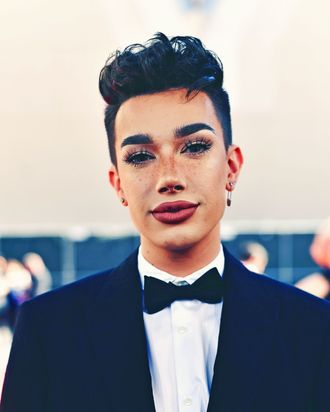 James Charles.
Photo: Emma McIntyre/Getty Images for dcp
Exactly one month ago, a feud broke out that rocked the beauty vlogger universe: James Charles, 19, posted about gummy vitamin brand Sugar Bear Hair on Instagram, apparently disrespecting his now-former mentor, Tati Westbrook, 37, and her competing line of vitamins, Halo Beauty. For weeks, a war waged, but now that both sides have reached a detente, Charles is back to living his life. By that I mean: attending a party for Kylie Jenner's new skin-care line.
Charles and Jenner were friendly before his feud with Westbrook broke out, but per Entertainment Tonight, the Keeping Up With the Kardashians star reportedly unfollowed him in the wake of the battle. But all of that seems to be behind them now — particularly after Charles posted a 41-minute monologue video entitled, "No More Lies" — and Charles has apparently been welcomed back into the Kardashian-Jenner scene.
The influencer attended the launch of Kylie Skin, Jenner's new skin-care line, on Tuesday night. Now, to be clear, there were no photos of him with Jenner, so it's unclear the degree to which they hung out at the party.
But not only did the vlogger make an appearance in the background of Jenner's Instagram Story from the event, Charles also posted a ton of photos and videos to his own, including some of him roller skating, images of the new Kylie Skin products, a video of the Kardashian-Jenner sisters (including Kim, Khloé, and Kourtney) posing for pictures, and even a selfie with matriarch Kris Jenner.
It must be a relief for all that peace has been achieved.