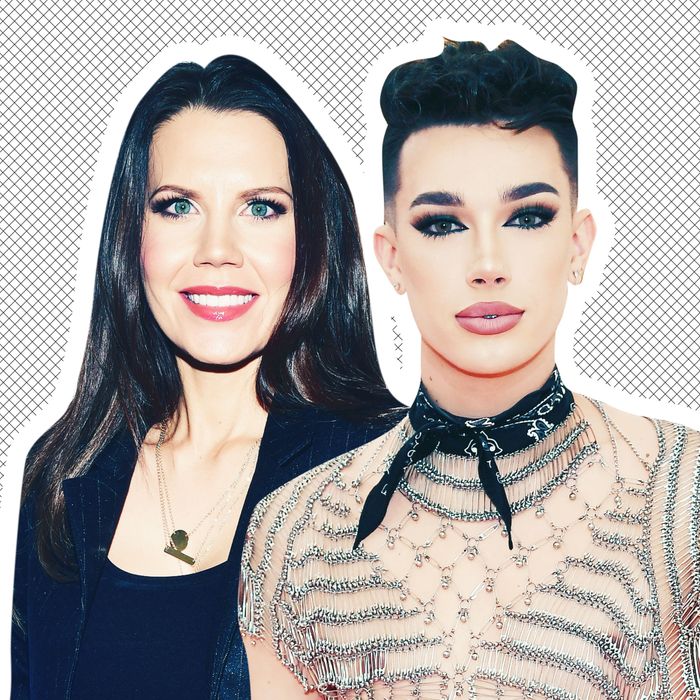 Do you hear that? That faint rumbling in the distance, like a storm racing across the barren plains of Twitter. Or perhaps you feel it, electricity in the air, a tingling that starts at the top of your head and travels down your arms, to the tips of your fingers, a rush that makes you feel morally superior, righteously enraged. It's a cancellation, and it seems to be speeding right at Tati Westbrook.
For the past couple of weeks, the planet (Twitter) has been consumed by the supplement-based feud between beauty vlogger James Charles, and his former mentor and friend Tati Westbrook. To recap, briefly: On April 22nd, while he was at Coachella, James posted a short Instagram video for gummy vitamin company SugarBearHair, which is a direct competitor of Tati's beauty supplements, Halo Beauty. Oh no. After James apologized in his Instagram stories, Tati went on to post a 43-minute (!) YouTube video calling James out for his past behavior, accusing him of "tricking" straight men into thinking they're gay, and ending their friendship.
The very public feud prompted a reexamination of James's troublesome past (joking about Africa having ebola, for example) and James lost over 3 million YouTube subscribers (while Tati's number of followers has skyrocketed), and celebrities like the Kardashians, Ariana Grande, and Miley Cyrus all unfollowed him on Instagram.
Now, though, the tide seems to be increasingly turning against Tati, with many wondering why she stood by James when he made a racist comment, but decided his endorsement of a rival vitamin company was a bridge too far.
Wow … If a 37-year-old woman who makes a 43-minute video dragging her teen friend isn't safe from being canceled, who is?