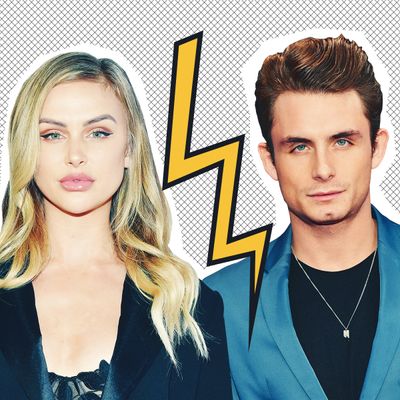 Vanderpump Rules cast member and former SUR DJ James Kennedy has always been a source of consternation. He's gotten into fist fights with Jax, he's cheated on Kristen; he rapped "remember when Jax fucked Faith?" during one of his final DJ nights at SUR (while Jax's fiancée Brittany was waitressing) before calling Katie fat and getting himself fired. No one wanted to come to his recent puppy party and, frankly, their reluctance makes sense.
Throughout it all, though, Lala Kent attempted to sustain her friendship with him. (As have Tom Sandoval and Ariana, but their efforts are unimportant at this time.) She even attempted to mend their friendship after James insulted her "man," which was very big of her. Her good will broke earlier this year, however, when James tweeted about her recently deceased father.
The ongoing nature of the tension was obvious in the most recent Vanderpump Rules reunion episode, when everyone screamed at James about how he is a bad person, and Lala Kent screamed at James about how she saw him "suck a boob" (not his girlfriend Raquel's) in Canada (?). And now, the tension has come to a head.
Lala Kent has discontinued the "James" lip gloss in her beauty line, Give Them Lala Beauty.
She announced the discontinuation of the lip gloss Thursday night on Instagram. After James came for her man in December 2018, Us Weekly asked if she regretted naming a lip gloss after him. "You know what, not at all," she told them. "If the name brings money to Lala's bank account, keep it coming. I do not regret that one bit." Alas, it seems the feud has surpassed the point of money being able to help.
R.I.P. James, the lip gloss. If you got it, enjoy.