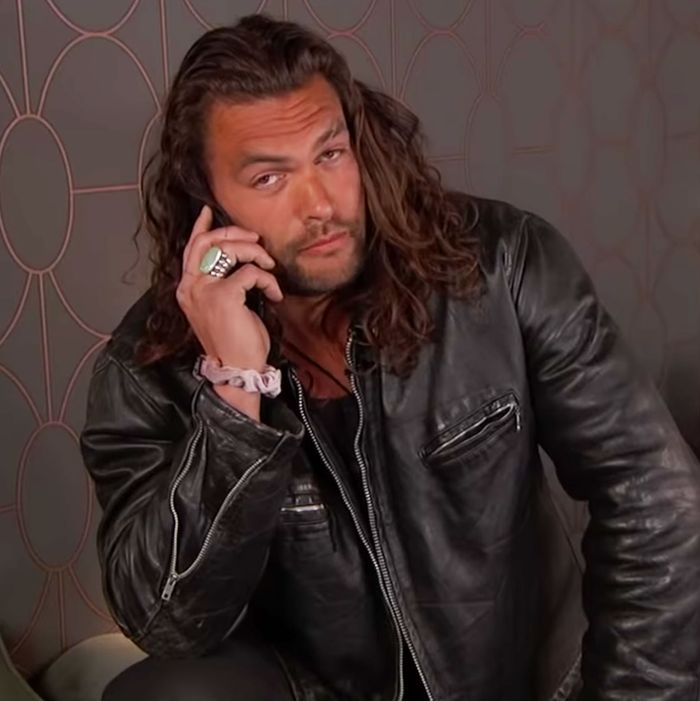 Jason Momoa.
Photo: Jimmy Kimmel Live/Youtube
As I'm sure you're aware — because you've been wearing a black mourning veil, and carefully separating your recycling in observance — back in April, Big, handsome man and Scrunchie King Jason Momoa shaved his wild, luscious beard to punish us, as a planet, for our overconsumption of plastic.
I know, I hate myself for letting it happen, too. One minute, I was chugging plastic water bottles and tossing them carelessly into the streets and forests, or placing them directly into the mouths of beautiful bottlenose dolphins without a second a thought, and the next thing I know, Jason Momoa — noted beard sporter — was bare-faced? What?
"I just want to do this to bring awareness that plastics are killing our planet," Momoa said in the video, which was promoting a new, unnamed line of canned water. "And I think I have a solution. I don't wanna bitch about it. It's only one thing that can really help our planet and save our planet."
Ugh, I'm sorry Jason Momoa!
Ever since then, I've been recycling, but everything felt off. Then this week, a glimmer of hope. During Game of Thrones creators David Benioff and D.B. Weiss's appearance on Jimmy Kimmel Live on Thursday night, Momoa made a brief cameo to receive a "death call" from the creators, and that doesn't matter, what matters is that in the clip, he is sporting pronounced stubble, thank God.
Finally, the order of the universe is at least partially restored, and I can go back to practicing my favorite hobby — burning massive pyres of unrecyclable plastic bottles.