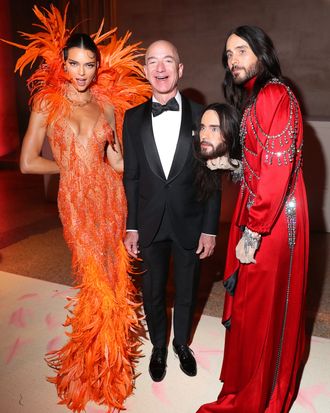 Photo: KEVIN TACHMAN/Getty Images for The Met Museum/
Sure, the Met Gala has its ecstatic moments, but mostly it's a lot of work. Bloggers are writing at odd hours, fans are wearing out their eyes on social media, and celebrities spend aeons in hair and makeup, and reading Susan Sontag. In this image of Jeff Bezos standing jauntily planklike between Kendall Jenner and Jared Leto, what I see are two appropriately tired superstars who planned ahead, and Jeff Bezos. Clearly the Amazon CEO did not put effort into his look or respect the theme in any way! This preserved in him the energy necessary to to stand at the center of a celebrity circus and project joy. It's almost like everyone else is doing the work of making him look good for him.
He evokes a hairless Monopoly Man, mostly because he's the richest person in the world. A net worth of $161 billion disqualifies him from achieving camp, but nothing, not even full-on Marie Antoinette cosplay, could have saved this look. Kendall, meanwhile, apparently got the memo that, as Susan Sontag writes in her blueprint essay "Notes on Camp," "Camp is a woman walking around in a dress made of three million feathers." Jared Leto brought a luxurious model of his own head.
And Bezos … Bezos did not seem to give a shit. He's happy as a clam without having to dress like one.