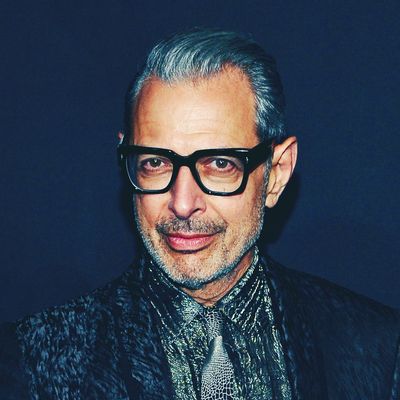 Photo: John Sciulli/Getty Images for FIJI Water
Jeffrey Lynn Goldblum, sexy statue and "spicy daddy," can now add budding beauty influencer to the list of things he does (acting, playing jazz piano, being the Jeff Goldblum in Jeff Goldblum & the Mildred Snitzer Orchestra). Goldblum's wife, Emilie Goldblum, a Canadian dancer, aerialist, contortionist, and retired Olympic rhythmic gymnast, filmed his first test-drive, a review of Summer Fridays' Instagram-famous jet-lag face mask, on her Instagram Stories upon his return from a trip.
The scene is set where many would love to be: in Jeff Goldblum's bed with a topless Jeff Goldblum, at approximately 8:38 p.m. While most influencers would face the camera, lit with a bright ring light, and remind the audience that everyone has been asking about their skin-care routine, Goldblum says very little, his voice rarely rising above a mumble, while playing coy behind a pillow. Finally, an authentic, jet-lag fueled review for a jet-lag specific product. He gives it one thumb up.
"Look how beautiful your skin already looks!" Emilie exclaims, referring to his face but probably to his famously sweaty chest, too.
In the series of uploads, we also learn that Emilie's hands are cold (which Jeff confirms in this clip), that she's a big fan of the mask herself, that Jeff is "such a good sport" and lets her do all her face-mask treatments on him, that his skin is now "so soft," and that Jeff is also recording a new album.
Alert John Mayer, and don't forget to like and subscribe.