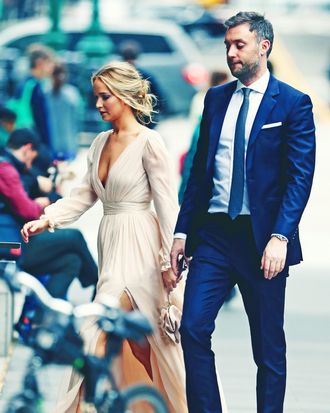 Jennifer Lawrence and Cooke Maroney outside their engagement party.
Photo: TheImageDirect.com
Spring has sprung (despite the lingering cold that chills us to our bones), which means wedding season is here. So what better time for Jennifer Lawrence and art dealer Cooke Maroney to celebrate their impending nuptials at an engagement party in New York City?
Lawrence, 28, and Maroney, 34, may be moving relatively quickly by normal people's standards, but they are moving as slow as molasses for a relationship involving a celebrity. We first learned the actress and the "nice-slash-fun" director of New York's Gladstone Gallery were dating last summer, then they moved in together after a couple of months, got engaged after a few more, and she flashed her "massive" engagement ring at the Dior show in Paris in February, whew.
After this kind-of-but-not-entirely-when-you-think-about-it whirlwind, the couple hosted an engagement party over the weekend. Here's what we know about the event, thanks to E! News:
• The celebration occurred at an "apartment building." (In fact, a source told E! that the party felt "as if they were going to a party at someone's apartment." Specific!)
• It was apparently attended by close friends and family members, and Lawrence and Maroney arrived by themselves.
• Cooke, per a source's description, appears to be polite: He held both the Uber door and their building door. Very nice!
• And lastly, thanks to the Instagram of stylists Jill Lincoln and Jordan Johnson, we found out that Lawrence wore a pale-pink Juliana dress by L. Wells Bridal.
These four details sound really lovely, and it seems like the party was nice (at least, in regards to those four things). We love finding out details about this couple!