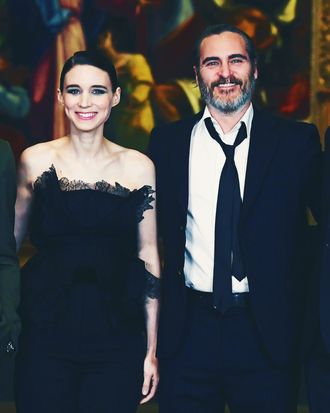 Joaquin Phoenix and Rooney Mara.
Photo: David Fisher/REX/Shutterstock
Joaquin Phoenix and Rooney Mara reportedly found love in a broken place (playing Jesus and Mary on the Mary Magdalene set), and now that they know each other in the biblical sense, they are taking their relationship to the next level: karate classes. Soon they might even combine these martial arts with some marital ones if you know what I mean (yes, you do).
The Daily Mail snapped pics over the weekend of Mara and Phoenix strolling around a parking lot in their billowing karate pants and a fresh "no-makeup" look. The couple was reportedly leaving a karate studio in Los Angeles. Karate is really Joaquin's thing, he's been spotted at it before, a lot.
Us Weekly also speculated on Wednesday that the two might be engaged, given the large diamond ring Mara sported while running errands on Friday. She was seen wearing the ring to karate class as well. The couple has been notoriously private about their relationship, and their training in martial arts is probably only doing them favors in terms of keeping the press at bay.
Us Weekly previously reported that Mara and Phoenix, who have been officially dating since January 2017, will never wed as they view marriage as "too mainstream." But making art about Jesus Christ is apparently not too mainstream for their tastes. Us Weekly's source added, "Joaquin transforms all his girlfriends into being holistic, vegan, spiritual, and into saving the world."
Someday there will be a devastating magazine profile about all this. For now, just candids of Rooney Mara in her karate whites.