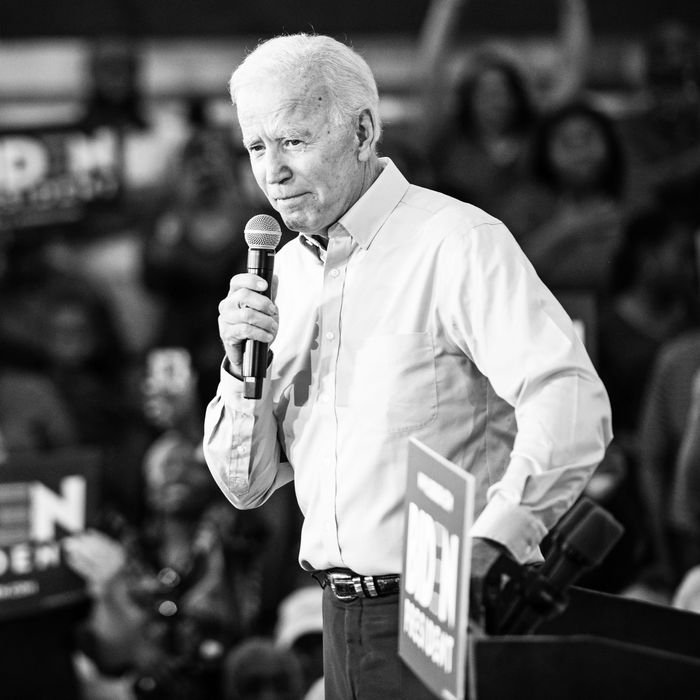 Joe Biden.
Photo: Sean Rayford/Getty Images
An inspiring report from Politico on Monday morning about a man doing the bare minimum: Joe "Sorry Not Sorry" Biden, 76, is apparently road testing a new style of campaigning that involves not violating the boundaries of people's personal space. Incredible!
The former vice-president has reportedly been refraining from some of his favorite campaign tactics, like rubbing women's shoulders and burying his face into their hair, unprompted. Instead, he's been offering "a simple handshake" and taking "pains to keep his hands in plain sight."
Unlike his hugs, Biden's new, restrained campaign style doesn't appear to be totally unsolicited. In the weeks before he announced his third presidential campaign back in April, several women came forward to say that Biden touched them in ways that made them physically uncomfortable, including giving Democratic State Assembly member Lucy Flores a "big slow kiss" on the back of her head, rubbing noses with congressional aide Amy Lappos, and pressing his forehead to the forehead of White House intern Vail Kohnert-Yount, and calling her a "pretty girl."
Following Flores's account of his unprompted physical contact in the Cut, Biden issued one of his signature non-apology apologies, and said that, while he did not believe he ever acted inappropriately, it was time for men to "pay attention." Still, according to Politico, "It wasn't obvious at first that Biden, who was first elected to the Senate in 1972, would have the discipline or the self-awareness to recognize the need to alter his habits."
But no big slow kisses or rubbing noses from "JO 2020". Although he has embraced people who have asked him for hugs, he is otherwise keeping his hands to himself.
It remains to be seen which candidate will be brave enough to pledge NEVER to blow smoke out of their ears and shout "A-OO-ga" when they see a voter in a tank top. If you would like to be the first, please contact me.