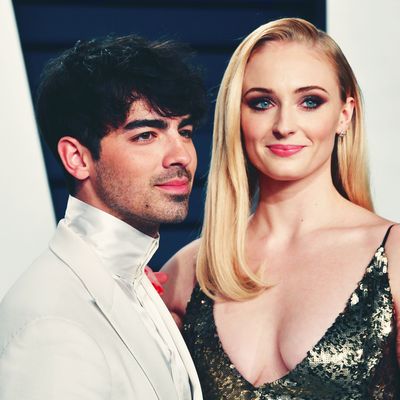 Joe Jonas and Sophie Turner.
Photo: Dia Dipasupil/Getty Images
Lately, a lot of high-profile celebrity nuptials have been getting classified as "secret."
Although it didn't work out in the end, actor Michelle Williams marriage to musician Phil Elverum was celebrated with a secret ceremony in the Adirondacks in July; the press didn't find it out about until Williams told Vanity Fair. Only a few months later, Gwyneth Paltrow, whose PR prowess launched a thousand beauty routines, announced she and Brad Falchuk had clandestinely wed in the Hamptons (details were later posted to Goop's website).
This week brought us a new level of low-key chic with two famous couples marrying not just privately, but on weekdays.
On Tuesday, The Sun reported that Jude Law married Phillipa Coan at the Old Marylebone Town Hall in London. The bride wore white, and I'm sorry to say that the groom wore a fedora that matched his corduroy blazer.
Then on Wednesday night, after the Billboard Music Awards had been put to bed, Joe Jonas and Sophie Turner got married in a Vegas ceremony officiated by an Elvis impersonator. According to reports, the main reason we are hearing about this at all is because Diplo documented the event on Instagram. Several other celebrities, many fresh from the awards ceremony, were also in attendance. The couple reportedly exchanged ring pops in lieu of inedible jewelry.
The thing about "secret" celebrity weddings is that, more often than not, they are just normal weddings that the media does not know about beforehand. Granted, famous couples probably have to go through some pains to keep the milestones in their hyper-publicized lives on the down-low, but I maintain it is not correct to call parties you're not invited to "secrets."
As for the weekday phenomenon, I can see the appeal, given that labor rarely conforms to a 9-to-5 Monday through Friday pattern anymore. Celebrities fall along the extremes of this spectrum, working all the time, none of the time, or whenever Game of Thrones shoots. And besides, they're already out for the red carpets.