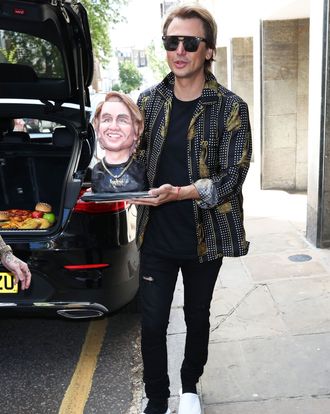 Jonathan Cheban.
Photo: XPOS/BACKGRID
In ancient history, human sacrifices were made to appease various gods. And now, it appears that another sacrifice has taken place, as Jonathan Cheban — a.k.a. Kim Kardashian West's friend, who goes by the alter-ego of "FoodGod" — was photographed carrying a lifelike cake … of his own head.
Jonathan Cheban is arguably best known for being Kim's best friend and appearing regularly on episodes of Keeping Up With The Kardashians, but it turns out, his work as "FoodGod" — a fancy-food consumer who travels the world eating, for instance, $1,000 gold-coated fondue — seems to be going pretty well, too.
Everything's going so well, in fact, that he's filming an eponymous reality series (according to the Daily Mail — and we mean, eponymous to his alter-ego, not his actual name). And (per "Page Six") he also recently won an award at the World Bloggers Awards — which, its website states, is the "world's first ever awarding ceremony for the best bloggers across 40 nominations" — in Cannes, France. He won Best Food Influencer, and then, seemingly celebrated with the cake of himself.
Cheban isn't the only celebrity to offer up a humanlike replica of themselves to the gods in recent weeks, however. Who could forget when Jared Leto brought a replica of his own head to the 2019 Met Gala earlier in May? It's unfortunate that Cheban's head-cake doesn't really look like him, but we can only hope that the cake satisfies the FoodGods.