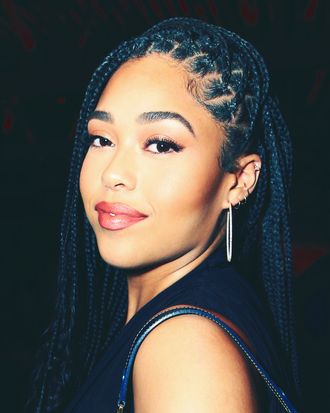 Jordyn Woods.
Photo: Phillip Faraone/Getty Images for Twenty
Over the past month or so, Jordyn Woods has been committed to proving that she's moving on and doing just fine in the aftermath of her wildly messy cheating scandal with Tristan Thompson. The latest development in her journey: She has fully moved out of Kylie Jenner's house and into her own damn place.
According to TMZ, Jordyn still had some of her belongings in Kylie guest house as recently as a week and a half ago — which is fairly surprising, given the two former best friends have majorly drifted apart ever since Khloé Kardashian's ex allegedly kissed Jordyn at a party more than two months ago. Apparently, someone in the KarJenner family that TMZ is "not allowed" to name was the one who insisted that Jordyn to get all her belongings out of Kylie's house. Yikes!
Jordyn, however, is fine — in fact, she seems to be doing better than ever? On Sunday, the 21-year-old posted to Instagram a photo of herself in her new Los Angeles home, leaning up against a couch that is presumably brand-new. "finally my first piece of furniture arrived!" she captioned the photo. "designing homes is such a task but I'm having the best time doing it."
Kylie, too, seems to be doing fine. Last week, she confirmed that she is, indeed, launching Kylie skin-care products. Even when Jordyn was moving her stuff out of Kylie's, the latter was admirably chill during it all, a source told People — but, understandably, "it just didn't make sense that Jordyn still had things" at her house.
Extremely fair!