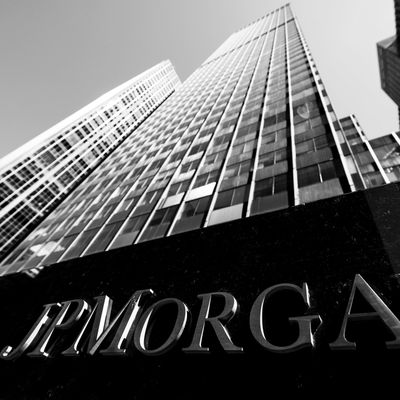 JPMorgan Chase.
Photo: JOHANNES EISELE/AFP/Getty Images
Many new parents working in the U.S. don't have access to paid parental leave — and the federal government only protects certain workers for up to 12 weeks of unpaid leave after they welcome a new child, under the Family and Medical Leave Act. While there is a lack of sufficient policies to require fair and equitable leave for all new parents across the country, some employers offer leave policies of their own. And one major bank — JPMorgan Chase — is about to make theirs more fair, thanks to a lawsuit filed by a new dad.
As NPR reports, financial crimes investigator Derek Rotondo filed a lawsuit against his employer JPMorgan Chase, saying he was denied 16 weeks of paid leave as the primary caregiver of his newborn son. In a complaint filed with the Equal Employment Opportunity Commission, Rotondo stated that he was granted some leave — two weeks, which the policy gives to non-primary caregivers — but not the full amount he was eligible for, and alleged that he had been discriminated against on the basis of his sex.
NPR notes that JPMorgan had stated it would work with Rotando to give him the full leave under its policies, but the complaint — for which the American Civil Liberties Union helped represent the father — led to a tentative class-action settlement with the big bank. Per NPR:
The bank will pay $5 million to hundreds, possibly thousands, of men who filed for primary caregiver leave and were denied in the last seven years. Rotondo and his attorney said JPMorgan Chase changed its policy; the bank says its policy was always gender neutral, but said it has clarified its language.
This in no way solves the horrifying lack of federal parental leave policies in the U.S., but at least this one employer — with over 250,000 employees — will be making things a bit more fair for its workers. Hopefully other employers will have to start following suit.