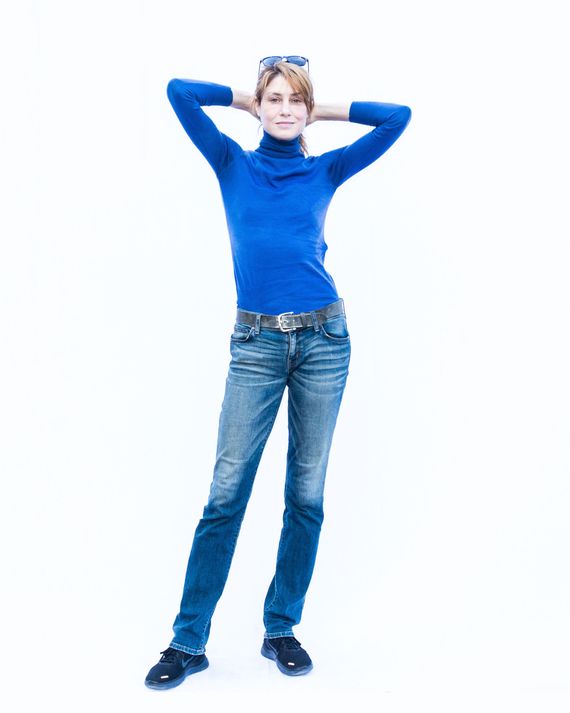 Every day, we put out into the world a version of how we want to be seen — and, of course, we're always misunderstood. Each week in our "Judgments" photo project, we're asking strangers on the streets of New York City to size each other up.
GUESSES
"She looks creative, maybe doing something in photography or design. I imagine maybe two small dogs, or one huge dog. Mid-30s. A loving polyamorous relationship, or a throuple." —Adi, 21
"She looks like a lawyer. Driven." —Allison, 35
"Her outfit is giving me a lot of different things. Self-employed, running her own business — like an eco-friendly start-up, something green. I don't know what it is about her that screams ecology to me. The high pony, with the sunglasses up — I get professionalism. But she could be a homemaker or stay-at-home mom. She's powerfully, independently single." —Michael, 21
REALITY
Model, entrepreneur. "I am originally from Portland, Oregon. I've lived in New York for over a decade. I just began a restaurant-consulting venture — we give the restaurant a New York Times–formatted review of their establishment, for their own personal use. I also volunteer on the High Line. I live in Chelsea. I traveled throughout Europe modeling before I came to New York."
"I'm definitely not polyamorous. I don't judge it; it's just not [my lifestyle]. I'm very monogamous when I'm in a relationship, and I'm heterosexual. I've developed an aversion toward dogs within the last couple of years, because nobody picks up their poop. When I see a dog, all I see is this little poop machine. I'm a super enthusiastic recycler — my apartment tends to get cluttered, because I hang on to things trying to think of how to repurpose them. I'm horrified every time I see people taking the bags from the grocery store, as if bringing your own reusable bag was that difficult. This guy I was dating — I'm not sure if we were dating or not, we went out a few times — he was always telling me I should be a lawyer because I'm super opinionated."
Jessica Boddy, Emma Grillo, and Sarah Nechamkin contributed reporting. On-set production by Jean Jarvis.