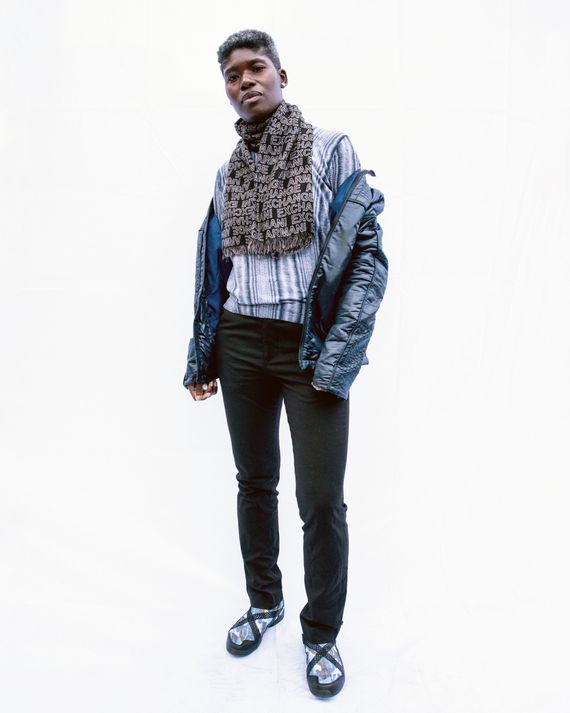 Every day, we put out into the world a version of how we want to be seen — and, of course, we're always misunderstood. Each week in our "Judgments" photo project, we're asking strangers on the streets of New York City to size each other up.
GUESSES
"She does something creative. It's her hair, the way she's standing. Maybe she's involved in some kind of sport, because she's fit. She's got a certain air of confidence. She looks independent." —Risa, 65
"She's probably a clerical worker at a desk of some sort. Goes to art exhibits, hangs out with friends. She expresses herself, probably a very strong person." —Tommy, 29
"She looks very calm but not polite." —John, 30
"She's a writer for a New York community newspaper. She looks creative and smart. She's in a relationship, but not a legal one. A partnership." —Chris, 31
REALITY
Real-estate agent and entrepreneur, 43. "I currently live in the Bronx. I grew up in the Bronx but traveled all around. I like exploring. I like reading, writing, going to clubs. I love to see artistic things. I am a mother of one, a grandmother of one: a son and a grandson. My grandson is 5.
"I started my dance company, Exotic Dance Central, in 1999. It was the first and only [at that time] school, studio, and company to specifically focus on the art of exotic dance and pole dancing in the United States. Maybe I seem like a more "in-your-face" type. [I'm] very strong, very assertive, very confident — I feel like you have to be … those are the main ingredients you need to make it, especially in New York. I hate anything clerical, really. I can't sit too long. At [the time of this photo], I was still in my relationship — I was in a 20-year relationship, but we weren't married. So, not a legal relationship. It ended recently, but we're also business partners, and she's my best friend."
Jessica Boddy, Emma Grillo, and Sarah Nechamkin contributed reporting. On-set production by Jean Jarvis.