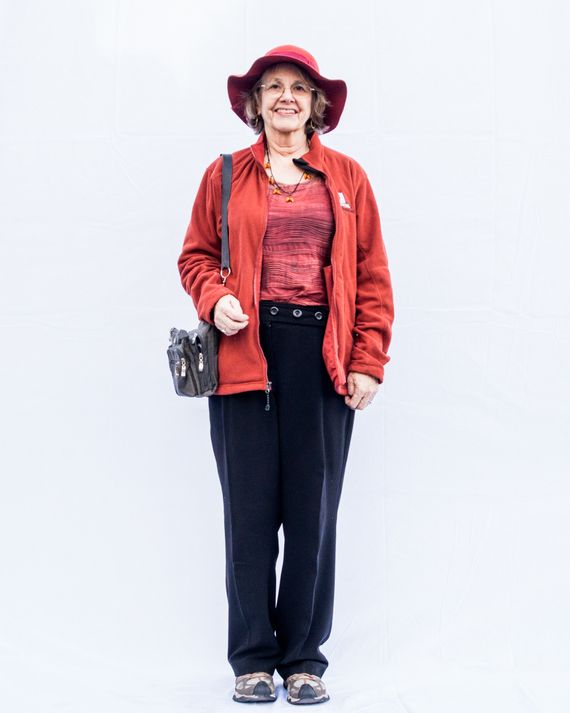 Jane.
Photo: Ruvan Wijesooriya
Every day, we put out into the world a version of how we want to be seen — and, of course, we're always misunderstood. Each week in our "Judgments" photo project, we're asking strangers on the streets of New York City to size each other up.
GUESSES
"She seems happy. Maybe she's retired, and she likes to look for fun stuff. She seems not too stressed out." —Olivia, 26
"Something having to do with education. She looks casual and smart, pleasant and informed." —Leslie, 62
"She's a writer. Maybe writes novels. She looks like a person who goes to upstate New York on the weekends." —Danielle, 48
REALITY
74, retired. "I volunteer at the Medicare Rights Center, answering questions about Medicare. I was a medical editor at a health newsletter. I'm a widow and live in New York City — Roosevelt Island. I love to sew clothes. I really like the New York Times crossword puzzle. I find that it's a refuge. My friends are really important; I enjoy being with other people."
"I've done some medical writing, but no novels. We had a place in northwestern Connecticut, but that's long gone. I'm more stressed out than I show — I come across as being calm. Actually, I'm on my way to meet a date through Match.com. I'm always looking to meet somebody of an appropriate age, because I want to be in a serious relationship. I was married for 30 years, and I miss having a relationship with a nice man. I met my husband through New York Magazine. He placed a personal ad, and I responded."
Jessica Boddy, Emma Grillo, and Sarah Nechamkin contributed reporting. On-set production by Jean Jarvis.