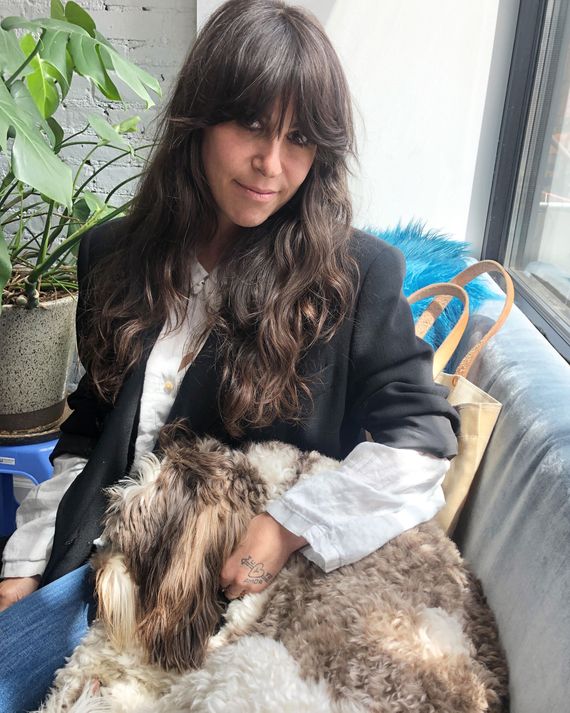 Photo: Courtesy of Judi Rosen New York
On a damp Manhattan Saturday, a USPS truck pulls up at designer Judi Rosen's shop in Nolita to deliver a box of her newest pants, the Jacquard Indigo Stovepipe jeans. It's been nearly eight months since she started designing them, and they're finally ready to sell. Rosen, whose long brown hair is tied up loosely in a side-pony with a acid-wash scrunchie, bolts out the door with a boxcutter slip-sliding in her hand, grabs the box, and, back inside, dances around it for a little while. Rosen's friend, the artist Meryl Smith, watches her, folded up on a window seat piled with Fiorucci notebooks — she'd beat the mailman (and Rosen) to the shop that morning to wait for the pants to arrive. A couple minutes later, the comedian Julie Klausner — Rosen's longtime friend, stops in with a gluten-free pound cake, and asks if the pants are in yet.
The release of a new pair of Judi Rosen pants is sort of like a Supreme drop, only if the customers in line were clog-wearing, slightly gray-haired women who've lived in the West Village for the last couple of decades instead of sullen Gen-Z hypebeasts. And it's pleasantly easy to forget, sitting under a six-foot wool snake (a doll for adults, Rosen calls it), watching Rosen's massive goldendoodle hump the hell out of a neighbor's smaller goldendoodle and Klausner stare, transfixed, at her ass in Rosen's jeans, that you're actually only 300-some feet from Supreme and that the year is 2019, not 2004. It's not that Rosen's wares feel dated; her pants — high-waisted, flared, super-flattering — actually feel aggressively on-trend. It's just that, if you sit facing away from the window (where a steady stream of women wearing intentionally distressed Madewell jean jackets and toting Everlane bags walk past), you could easily pretend it's pre-crash lower Manhattan, that indie clothes makers like Wendy Mullin and Kathy Kemp still have shops nearby, and that it's still possible for wacky artists-slash-designers like Rosen to open a New York City shop to sell their wares, replete with miniature ceramic hot dogs and early '90s comics. Or in other words: It's easy, in Rosen's newly opened shop Judi Rosen New York, to pretend you're in Rosen's old shop, the cult-favorite The Good The Bad and the Ugly, which closed abruptly in 2009.
The Good The Bad and the Ugly opened in 2000, at the height of the low-slung pant craze (somewhere post–McQueen Bumsters, pre–Keira Knightley at the Pirates of the Caribbean premiere). Rosen, who'd been sewing her own clothes since her childhood on Long Island, filled it with her designs: sharkskin taffeta corsets in purple and turquoise, super-short Victorian-esque dresses in sherbet-colored velour. She'd had a shop before, called Two Jills & A Jack, for a few years on the Lower East Side (in a $200-a-month storefront Rosen believes was formerly a sex dungeon — she found Polaroids of girls tied up stuck in the walls, which were expensively soundproofed), where she'd cultivated a distinctly New York-y following: Courtney Love regularly stopped by to smoke cigarettes and pull clothes off the rack, as did Drew Barrymore, Pat Field, Betsey Johnson, and, according to Rosen, "some of the Bin Laden girls" (his daughters, apparently).
When the store opened, Rosen was "fucking obsessed with glam rock," and that fact combined with her intense distaste for anything trendy led her to start playing around with '70s-inspired high-waisted jeans. She wanted to make pants that would flatter her own, curvy body — super-tight and inlaid with a sort of fabric bulwark that would lift her butt up and flatten her stomach. The result was so effective that she says she almost couldn't believe what her body looked like the first time she put them on; the jeans accentuated her waist, and lifted her butt so high she couldn't stop staring. It took barely any time for them to take off; New York stylists popped into the store regularly enough that by 2005, Britney Spears, Tyra Banks, Alicia Keys, and Mariah Carey all owned Judi jeans, as did Naomi Campbell, Mary J. Blige, and Chloë Sevigny. Rosen loved the attention. She made a collage of magazine pictures of Banks wearing the jeans on America's Next Top Model. "Things were going really, really well," Rosen says. "And then, they were not." Her personal life was a disaster, she stopped paying attention to the business, and then the crash happened. "I didn't make it," she says. "But neither did a single other shop in the neighborhood, by the way."
It's confusing for customers, Rosen says, that she's the owner of her store, and the salesclerk, and the designer of all the clothing inside. Things become further befuddling to shoppers accustomed to the friendly-but-hands-off customer service of, say, a Warby Parker, when Rosen won't let them buy a pair of jeans because she's not sure they're the best fit, or forces them to go a size down because she knows they'll look better. On the day the Indigo jeans launch, a woman comes in and asks for a 29; Rosen looks her up and down, and shakes her head. "A 28," she says. "No," the woman says. "Just trust me." Rosen says. The woman pulls herself into a 28, moaning audibly from the dressing room, and comes out to show Rosen that they're too tight. "Those look fucking amazing," Rosen says. The woman, chastened, buys the 28s. Her strategy isn't always as effective, and definitely isn't the most lucrative: When Klausner tries to buy a pair of patterned pants, Rosen won't let her. "Not your style," she says, "you won't wear them." Klausner puts them back. My aunt, a Rosen devotee since The Good The Bad and the Ugly, was recently turned away from the store three times while trying to purchase a pair of jeans in a size Rosen deemed too big.
After her store closed in 2009, a fairly distraught Rosen pivoted from jeans and started making and showing art. In 2013, she participated in a group show at Max Fish; her work — cushions printed with drawings she made of clowns having a threesome — was spotted by Kid Rock, who called her that night at 2:30 a.m., and told her that, though he wasn't really into art, he'd like to buy one of her pieces. Later, she had a solo show at Fuse Gallery called "Blow by Blow," where she showed more clown pieces: a depiction of a weeping clown bent over in front of two other clowns, printed on cotton muslin (title: Eat Out 2), a clown made out of a chicken that had been given to her live by her Puerto Rican neighbor (she taxidermied it). But then she started getting emails from her customers. "People wrote to me all the time, saying 'my jeans ripped, what am I supposed to do?' or 'can you please just make a pair or two, mine are wearing down.' So I started making small batches again, and selling them through my website." Finally, in 2017, she started looking for a space to reopen. She found a small space in Greenpoint, stayed there for a single, successful year, and then stumbled upon a For Rent sign in Nolita. So she decided to come back to the city.
Customers from The Good The Bad and the Ugly stop by the new store frequently, Rosen says. And they litter the comments of her Instagram account, which Rosen is gamely figuring out how to use to propel her business forward. "It's a little cult of Judi," says comedy writer Lesley Arfin. Arfin met Rosen when she was still in high school; she'd travel into the city from Long Island to visit her store, which she found listed on the back page of Paper Magazine. She couldn't afford Rosen's clothes, so Rosen let her work a couple hours in the store to pay for them; when Arfin moved to the city in her early 20s, she began working at The Good The Bad and the Ugly full time. "Judi knows all of her customers, and her customers are always so cool," Arfin says. "When I first went to her store, I thought she was so pretty, and fun. I was so young, and they were so kind — they were cool girls who didn't make me feel like a loser, which is how I was afraid I was going to feel at any cool store in New York." This is how Rosen keeps her customers coming back, and back, and back — store or no store.
The day of the Indigo drop, a woman wearing a pair of white Judi jeans stops into the shop. "I just wanted to show you how great I look in these," she said to Rosen, who admired her butt accordingly. When she left, Rosen told me the woman had bought the jeans the night before, at 10 p.m. "She came in completely wasted," she told me, delightedly. "And the store was closed. But did you see how great her ass looks in those pants?"