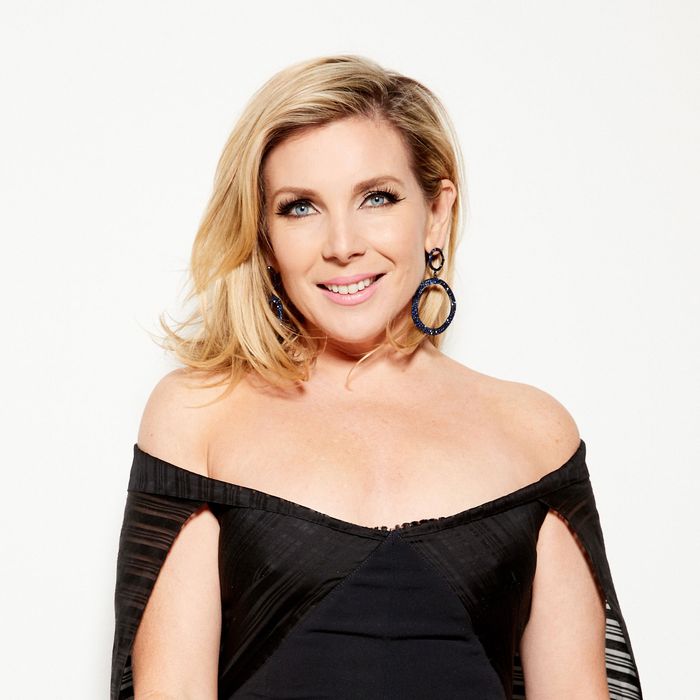 June Diane Raphael.
Photo: 2019 Getty Images
June Diane Raphael wasn't stressed about the coffee stain on her cream jumpsuit. She'd spilled her cup while getting into the car that brought her uptown to meet me at the Regency Bar & Grill, but Raphael practices something she calls "radical acceptance." Fans of the actress/comedian/writer/producer are familiar with her position of not getting too worked up about the small stuff, about which she says: "I'm not taking this on." She first shared the idea in 2017 as a guest on "Bitch Sesh: A Real Housewives Breakdown," but the truth is that lately, Raphael has actually taken on quite a lot.  
In between her breakout roles as Jane Fonda's sardonic daughter Brianna on Netflix's Grace and Frankie, and Maggie, Chief of Staff to Charlize Theron's presidential candidate character in the new film Long Shot, the actress once known for her small but memorable roles on Party Down and Parks and Recreation is also co-hosting the "How Did This Get Made" podcast and has founded a co-working space with onsite childcare called The Jane Club. On top of that, the 39-year-old mother of two just finished writing a guide for women hoping to enter politics, due this summer. See? She's busy.
We'd picked the Regency for our interview because, even as she's doing all that, Raphael still has time to obsessively watch The Real Housewives of New York, and the bar is the epicenter for much of the show's drama. (It's where Tom was caught cheating on Luann before their engagement party, after all.) We hoped to see some wealthy New Yorkers committing shady misdeeds, but instead we found the place tame and well-lit early on a Tuesday evening; so we snacked on bar popcorn and she explained to me how, in a panic over Donald Trump's 2016 win, she came to write a book about politics.
"I had this moral crisis of, What am I doing with my life?," Raphael said. "I have two small kids and I have to stare at them at the end of the day and figure out, Did I do enough to secure their future? And I didn't feel like I was doing enough.'" The election prompted Raphael to decide that she would run for office herself. The only problem was that she had no idea where to start.
The daughter of a New York public school teacher, Raphael did what felt natural to her: She tried to find a step-by-step guide that could help a novice like her navigate the electoral process, but she couldn't. So she reached out to Emily's List, a political action committee that helps Democratic women get elected to office, to give them the "hot tip" that there was a market for such a book. Raphael didn't think she'd be the one to write it, but after a call with Emily's List's now-former chief of staff Kate Black, she was convinced to take it on.
"Off the bat, I knew that I was talking to someone who was extremely passionate about what she saw was the problem in front of her, and wanted to fix it," Black told me during an April phone call.
Raphael put her political aspirations on hold (for now), and the women spent the next two years working together co-writing Represent: The Woman's Guide to Running for Office and Changing the World. It's an advice-based workbook complete with guidance from sitting congresswomen and debates between the authors about proper campaign attire, which they hope will be useful advice for first timers.
At the Regency, we hadn't seen any Bravo-level drama, but I did see some of the passion Black mentioned. Raphael, like her onscreen characters in Grace and Frankie and Long Shot, has a dry humor, but she's focused. It felt strangely obvious that this person best known for her work in television comedy would be a source of political advice.
Then there's the fact that in Long Shot she plays Maggie, a career bureaucrat desperately trying to get her boss — played by Theron — elected president. "It was very, very easy for me to connect to that idea of desperately wanting this woman to hold the highest office in the land and not wanting her to risk that," Raphael told me, still keeping an eye out for Housewives. It's that same kind of desperation that gets her out and canvasing with her colleague Fonda.
Raphael's radical acceptance doesn't extend to the status quo, or to staying in any of the boxes that actresses are put in regularly. She'll highlight the important issues that affect new working mothers, and she'll keep watching Bravo shows about rich women. Her steadfastness is contagious — as we wrapped up our conversation, I quietly made an internal commitment to let go of the trivial things I pay too much attention to (other than Bravo shows, that is), and instantly felt more relaxed. Then, when it finally hit 6 P.M., the lights at the bar started to dim and we stopped talking about politics. "Yep, I picture Tom crawling out from under a table somewhere with the lights coming down," she told me. "Okay, now it's feeling a little bit more Regency."