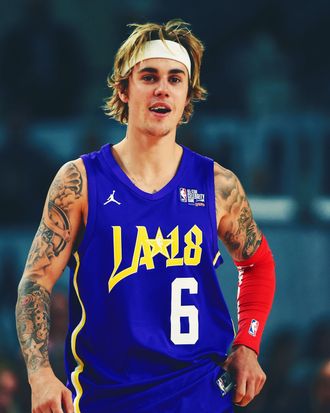 Justin Bieber and his two armpits.
Photo: Jayne Kamin-Oncea/Getty Images
Last month, Hailey Bieber (née Baldwin) filed a trademark for "Bieber Beauty," but it looks like her husband, Justin Bieber of The Biebers, may be the first Bieber to release a Bieber-branded beauty product. People reports that the singer and budding Instagram poet is collaborating with natural beauty brand Schmidt's on a new natural deodorant called Here + Now.
According to People, Bieber's Here + Now deodorant will be vegan, cruelty-free, and made with all plant-based ingredients. Bieber was involved in everything else, including the label artwork, the scent, and the name, which was chosen as a reminder to be "present in your daily life." Bieber announced the new collaboration on Instagram with a topless image of himself looking very present; eyes closes, arms stretched, pits young, wild, and very free. Judging from the top comment, it seems Sean Kingston is already a fan.
Here + Now is neither here nor now, though. The deodorant isn't set to launch until later this fall, which gives you more than enough to time to decide if natural deodorants are the deodorants for you. If you're worried you'll never be able to quit depending on aluminum and such to mask your bodily odors, let Bieber be your guiding beacon of light to finally take the daunting plunge, or at least confront it. "If Justin can make the switch from conventional to natural, it's a choice that's open to everyone," Schmidt's CEO and co-founder Michael Cammarata told People.
Truer and more logically sound words have never been spoken. The choice is open to everyone, including you, now, more than ever before due to today's announcement. Give yourself a sniff and ask yourself, WWJ(B)D? And if you're a Biebz fan, deodorant debate be damned, just consider jumping on this Biebz-related natural endeavor to make up for this disastrous one. Teamwork makes the dream work.