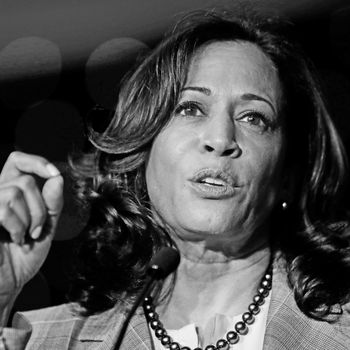 Kamala Harris.
Photo: Gerald Herbert/AP/REX/Shutterstock
Kamala Harris encourages speculation around presidential candidates' running mates, as long as she's not offhandedly relegated to the role of vice-president.
Over the past few weeks, Politico reports that some Democrats have been floating Harris as the perfect running mate for Joe Biden, with the most recent talk coming from senior members of the Congressional Black Caucus, who opined that Biden and Harris would make a "dream ticket." More privately, the presidential candidate's confidantes have called the conversation "infuriating" and demeaning to her candidacy. However, it wasn't until a campaign event in New Hampshire on Wednesday that Harris herself was asked to weigh in on all the talk of how she'd make a great vice-president, and she made it clear that she's not interested in settling for second best.
"If people want to speculate about running mates, I encourage that, because I think that Joe Biden would be a great running mate," Harris responded wryly to a question from a Daily Mail reporter. "As vice-president, he's proven that he knows how to do the job."
Harris campaign spokesperson Ian Sams put it more bluntly to Politico: "She's running for president, period, and she intends to win," he said.
Former Georgia governor candidate Stacey Abrams, who has been floated as another potential running mate for Biden, had a similar answer when asked about potentially joining his 2020 ticket. "I do not believe you run for second place, and I do not intend to enter a presidential race as a primary candidate for vice-president," she said on MSNBC last month. "If I enter the race for president, I will enter the race for president."