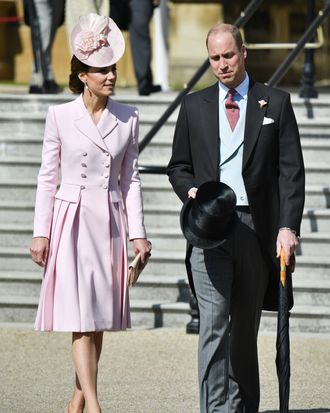 Kate Middleton and Prince William at a Buckingham Palace garden party.
Photo: Dominic Lipinski/PA Wire/PA Images
Ah, spring. A time for sunshine (when it's not raining), non-winter clothes (when it doesn't suddenly dip down to 40 degrees Fahrenheit unexpectedly, that is), and, of course, the British royal family wearing extremely festive attire at Buckingham Palace garden parties.
As if on cue, newfound gardener Kate Middleton stepped out for one such party on Tuesday at the palace, joined by her husband Prince William and none other than Queen Elizabeth herself. The queen looked on-brand in baby-blue attire and chic sunglasses, while Prince William opted for a summer tuxedo, complete with top hat and fancy-looking umbrella.
But while that's all fine and well — good for them for looking very British at a very British event — we were primarily focused on Kate (or, Catherine, Duchess of Cambridge) as she was in an incredibly pink coat dress by Alexander McQueen, as well as a hat by Juliette Botterill (per Daily Mail royal correspondent Rebecca English). The look is pretty much her signature attire at such events — coat dress, fancy hat and/or fascinator, as well as now also possibly a hat band, which she and her sister Pippa Middleton have been into lately — and the color was fitting for the occasion.
Queen Elizabeth tends to host a bunch of garden parties each year, during which people get dressed up in fancy clothes and consume a bunch of tea, sandwiches, and cakes — hosting around 30,000 people per garden party season at events at Buckingham Palace and her Scotland estate, Holyroodhouse. At this particular party, there were about 8,000 people present, according to Rebecca English:
Our invites must have gotten lost in the mail.
This post has been updated.