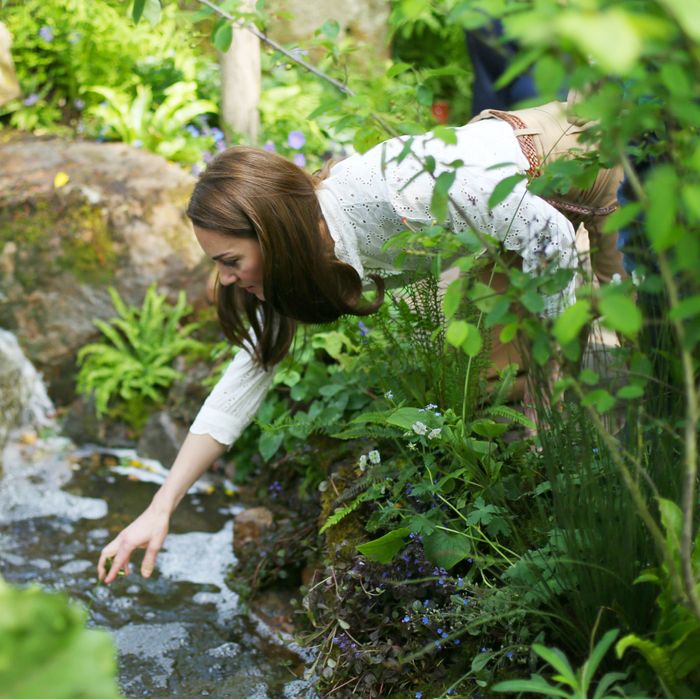 Kate Middleton at the Chelsea Flower Show.
Photo: Yui Mok/Getty Images
Just as Henry David Thoreau found clarity after he retreated to the woods of Walden Pond, Kate Middleton seems to have found her place in nature … or rather, the nature of the Chelsea Flower Show in London, that is.
Middleton helped design a "Back to Nature" garden at this year's Royal Horticultural Society flower show. The garden that the Duchess of Cambridge designed includes, among other things, a stream, a rope swing, flowers, and of course, a tree house that she climbed into on Monday:
But before Kate stepped out to enjoy the garden publicly on Monday, Kensington Palace released a series of pictures over the weekend, showing the duchess truly in her element at the show. In the images, shared on social media, Kate is joined by her husband Prince William, as well as their three children — Prince George, age 5, Princess Charlotte, age 4, and the not-so-elusive-anymore Prince Louis, newly age 1 — and the family appears to be having an absolute ball at the garden.
First, there's Kate looking happier than we've ever seen her on the rope swing:
Followed by Prince Louis publicly walking for the first time, as his big brother (and potential mystic) Prince George walks up some rocks in a stream in the background:
There were also pictures of Princess Charlotte and Prince George adorably hanging out by the water together:
And, for good measure, Kensington Palace even released a video of the family's outing — that also included clips of Kate planting (!) and digging (!!) the garden with a team:
Later on Monday, Kate Middleton and Prince William returned in fancy attire (her dress is by Erdem) to show the queen around the garden.
Ah, nature.
This post has been updated.