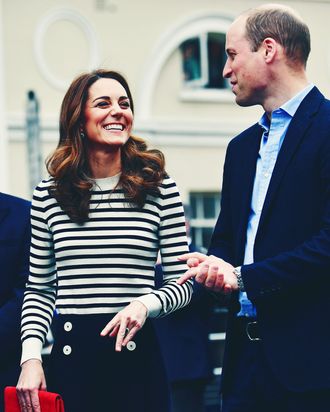 Lovers — and rivals.
Photo: BEN STANSALL/AFP/Getty Images
Watch out, watch out! Kate Middleton and Price William have announced they will compete in a sailing race this summer! Back up and get out of the way, this is sure to be dangerous, and we are warning you for your own good! Stay away from the sea, from now until … winter!
Royal lovers — or rivals? — Kate and William announced on Tuesday that they would host an eight-boat regatta, called the King's Cup, in August on the Isle of Wight. They'll also act as competing skippers of two of the boats, eager to see whose thirst for sea blood is stronger and more powerful. Each of the boats in the regatta will represent a charity (to which the funds raised by the regatta will be donated), and the winner will receive the eponymous King's Cup, which is, according to this tweet, "a historic trophy first presented by King George V at Cowes' Royal Yacht Squadron in 1920."
Very historic!
This isn't, of course, the first time Kate and William have taken their intense rivalry to the sea. In March, the two competed in a canoe race while visiting Northern Ireland. William won that round. But was Kate lulling him into complacency, tricking him into thinking he has the upper hand? Will her masterful plan be revealed during this regatta in August? Or will she be rubbish at regatta-ing, just as she is rubbish at soccer, according to her son whose name we have some questions about?
We will have to wait and see — at the regatta.