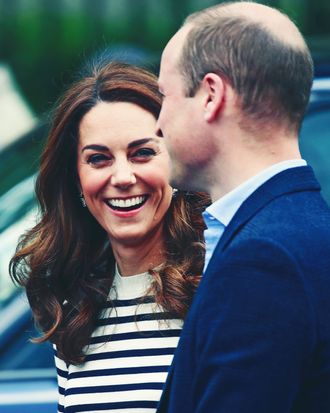 Kate Middleton and Prince William.
Photo: Chris Jackson/Getty Images
Early Monday morning, Meghan Markle gave birth to her first royal baby with Prince Harry: an as-yet-unnamed boy, whom everyone is currently referring to as Baby Boy Sussex. The prince stated after the birth that he and Meghan were still working on naming their new son. And it turns out, we (the world) aren't the only people waiting to hear about the new royal's identity — Kate Middleton revealed on Tuesday that she and Prince William are looking forward to learning the name.
The Duke and Duchess of Cambridge spoke about their new little nephew at the launch of the King's Cup regatta on Tuesday. Prince William kicked things off by saying, per Hello!, that he was "obviously thrilled, absolutely thrilled, and obviously looking forward to seeing them in the next few days when things have quieted down." He also added that he was "pleased and glad" to welcome Prince Harry into "the sleep deprivation society that is parenting."
Kate then added that it's such a "special time" for the family, as her children Prince Louis and Princess Charlotte just had their birthdays. (Apparently, spring is a "great time of year" to have a baby, according to her.) The duchess continued, per Hello:
"As William said, we're looking forward to meeting him and finding out what his name's going to be, so it's really exciting for both of them and we wish them all the best."
You can also watch the exchange in video shared on Twitter by royal reporter Rebecca English of the Daily Mail:
So the Cambridges also don't know the baby's name … looks like royals are just like us (in this one regard)!