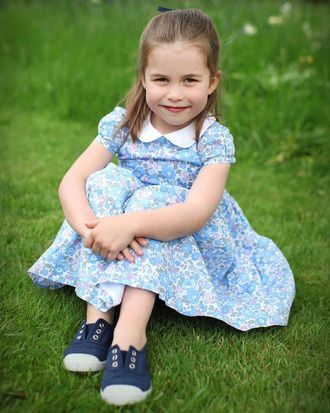 Princess Charlotte.
Photo: kensingtonroyal/Instagram
As the Cambridge kids age, Kensington Palace often celebrates by releasing a photograph taken by acclaimed child-portrait photographer Kate Middleton, Duchess of Cambridge, mother of the aforementioned Cambridge kids. So it's only fitting that ahead of Princess Charlotte's fourth birthday on Thursday, the royal family released some more Kate Middleton original pics.
On Wednesday night, Kensington Palace put out three pictures on social media of Princess Charlotte, the only daughter of the "arty" duchess and her husband Prince William.
The new photographs come a little over a week after the world was blessed with another set of images of a Cambridge child taken by Kate — those of Prince Louis, who wore two different sweaters (including one adorned with a doggy) in honor of his first birthday last week. Kate has similarly taken other birthday portraits of Princess Charlotte (although last year's was a joint pic of Charlotte and her newborn brother, the elusive Louis).
However, birthday portraits of Kate's eldest child, Prince George — a.k.a. "P.G." and/or Archie — have been taken by non–Kate Middleton photographers for unknown reasons. Perhaps because he is heir to the British throne? But really, who's to say? Either way, the pics are still nice, but other than the genetics of the subject (her son), they miss some of that Middleton je ne sais quoi.
Hopefully Kate continues to take photos of her kids for each one of their birthdays (except for Prince George's, I guess) for the rest of their lives.
UPDATE: 8:50 a.m.: Wouldn't you know, just as they did for Prince Louis's birthday, Prince Harry and Meghan Markle left a birthday message for their niece via the @SussexRoyal Instagram account. (And for the record, they signed it "H and M," which suggests their royal baby may not be here yet. Who knows!).
How nice!