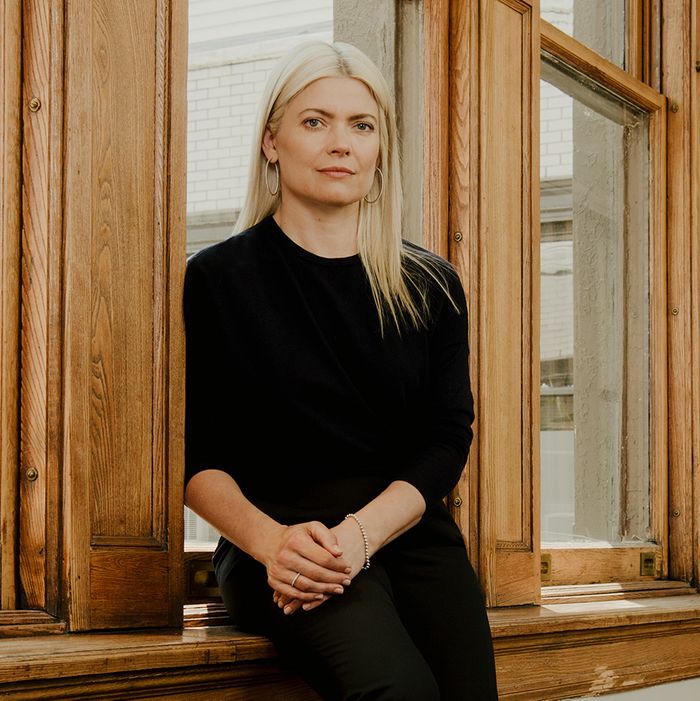 Photo: © Heather Sten 2019
Kate Young is one of the top celebrity stylists in the world, dressing a host of actresses for the red carpet. After closing out a busy season of Hollywood award shows and the Met Gala, she spoke with us about where she finds inspiration, how diamonds have transformed her most notable looks, and how she commits time for herself. She and her husband, Keith, live in Brooklyn and have two children, Stellan and Leif, aged 8 and 11.
When you were an assistant, you leaned into celebrity styling when no one else wanted to do that kind of work, and it launched your career. What advice would you give to yourself back then — and what should people think if they're also at a moment in their careers wondering, should I do this?
The thing that helped me a lot, and how I ended up here, is that I think I had the idea that things should be difficult, and you should have to work hard at them, [whereas] often the things that I'm best at I find really easy. I don't have to think a lot about them, I just do it, and it works. I wish I had just known that the thing that was easy for me was celebrity styling. It was much harder for me to do very, very high-end, edgy editorial; that's not what comes out of me naturally. When I see a runway show that excites me, I don't come up with an idea for a shoot instantly. What I tend to do is think about how someone can wear it, and who can wear it.
The reality is that it's much easier for me to be a celebrity stylist than to work at a magazine, and I struggled with that for a long time. I tend to think things should be hard. I almost majored in classics, I did lots of years of Latin, and classicism is a very difficult, arduous thing to work on. English and art history are really easy for me. I can talk about books, I can talk about paintings all day long, and I go to museums in my free time. It was a weird thing for me to realize that I should be doing the thing that I liked doing, the thing that was easy.
You've said you're really hard on yourself when it comes to even acknowledging your own success — how do you fight through those negative thoughts?
I talk to my friends and my husband a lot about everything. I'm not a super-negative person, and I don't look back generally. I try and stay focused here and forward. I think when I don't feel good, I tend to just focus on the future, and how it's going to be better next time.
Do you believe in "self-rewarding," or treating yourself to something good after you achieve something?
That's sort of not my nature. When I hear people say "treat yourself," I'm always like, weird. But I do believe in marking occasions, and I think that it's nice to have as a marker of occasion. That's what's significant about a wedding ring, or for people who get a watch when they retire or a ring when they have a baby. I think it's really nice to have. Jewelry is something that's permanent in a way that clothes aren't and other gifts aren't, often. I think it's closer to your skin and a nice reminder of a moment or significant emotion.
How has jewelry marked occasions in your life?
My mom and dad gave me a diamond ring when I graduated from college, and it's super-special for me. It's an emerald in the center that my grandmother got from Colombia years ago, and it's surrounded by [natural] diamonds. I probably got my love of jewelry from them. They gave me a necklace on my 13th birthday and diamond earrings on my 16th birthday. I was raised in a way where you do mark those events.
What does it mean to you now?
Because of my clients, I have the luxury of working with the best jewelers in the world, and the best jewelers in the world all use natural diamonds. They're real. They come from the earth. I always say this, I feel like it's even a cliché for me to even say this out loud, but everyone talks about the crystals all the time — I have crystals in my house, on my desk, and I think crystals are fabulous, but a [natural] diamond is the ultimate crystal. I mean, they have enormous power. To bring a diamond into the room is really significant, and everyone's drawn to it. There is power and energy, and they're extremely captivating. That much energy condensed in the earth over centuries, when you see it, you can feel that.
What are the most memorable red carpet looks you've created with diamonds?
This year one of my clients wore a choker that was really fabulous. Years and years ago, one of the first red carpets I worked on, another wore a gold dress with this yellow diamond ring that is still my ultimate dream ring. It was just a yellow teardrop diamond that is such a fantasy. I think the diamond necklace for the yellow dress that everybody remembers I styled, I think that look would not have been as significant were it not for that necklace.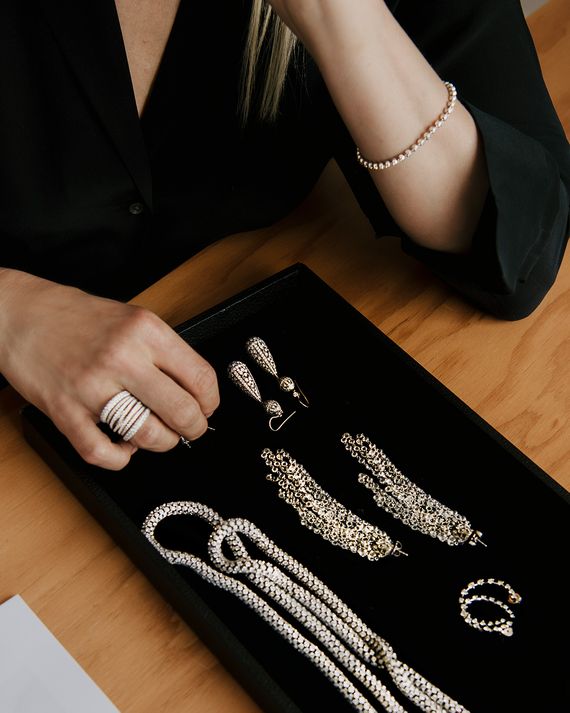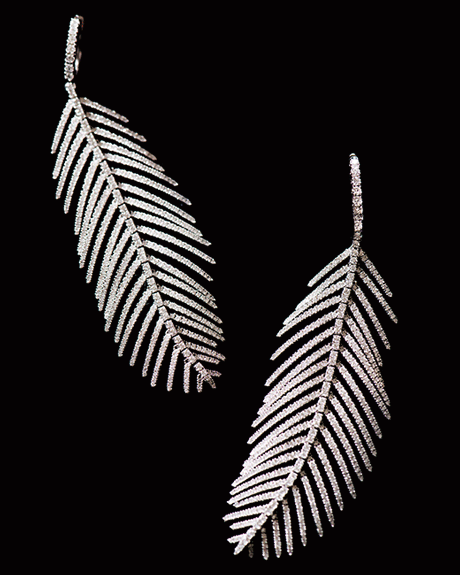 What was it like in your office ahead of the Met Gala?
For the Met Gala you're paired a designer and a client, so it's different from other red carpet events because we're not pulling in racks and racks of dresses and deciding what the look should be. It's more of a collaborative process with that designer, and often my client has to fit in with the other people at their table. One dress I did had an Old Hollywood feel, which is at its heart quite camp: It's what all the old drag queens used to reference, but then the dress is entirely made of metal so it felt new and surprising. We did big diamond earrings with it, so it felt glamorous in that Old Hollywood way.
For another 3D printed gown that night, I was really into the idea of a glass slipper transformed into a dress, sort of like the ballerina inside a jewelry box, and it felt like [natural] diamonds went with that. She had her hair up and she had these gigantic diamond earrings that cost $2 million. It was crazy, a whole cascade of perfect teardrop-shaped diamonds. It was really fabulous.
What does a typical morning look like for you?
6 a.m. is the ideal, but if I'm really busy I wake up at 5 and write tons of emails. I save drafts and try not to send them until 7 because I don't want to wake people up. I do TM [transcendental meditation], and I drink coffee, make the kids breakfast, make their lunches, get dressed, and walk them to school. I either go to pilates at 8 or 9, or go to the office. Depending on pilates I get to the office around 9 or 10:30.
How do you manage your schedule and commit time to people?
I tend to look at my calendar for the next day on my phone before I go to sleep at night, so I have in my head what I'm doing. It changes all the time, and my assistant and agent can both manipulate my calendar. I could have one or two meetings, or if I'm [pulling clothes] for a shoot or a fitting I could have ten. I like to exercise in the morning, so if I don't get to exercise in the morning, then I'm not exercising for the day.
When I'm here I work, and then I leave. I know people who work in other offices, and they seem to get all their work done between 7-10 p.m., and during the day they're socializing or having all these meetings. I don't do a lot of that. It's very unusual that I work after 6 because I like to be home for dinner with my kids and put them to sleep. I much prefer a business lunch to dinner and try not to go out more than twice a week.
What's your evening routine after work?
We usually eat dinner together and take the kids and put them to bed at 8:30, and then Keith and I talk about our days. We watch TV in bed a lot, and I have no fancy routine. I wash my face and brush my teeth, and I have this really nice hand cream that I bought in Italy. I'm going to need to replace [it] soon and feel sad it won't be the one I bought in Italy.
How many emails do you get every day?
I have a very small team of three people — two in New York, one in L.A. — and I talk to them all day. My email isn't that relevant. I've had the same email address since the '90s, so unfortunately my email address is so public that I'm on all these horrific PR blasts that have nothing to do with me, and I get thousands. I have 6,521 unopened emails in my account right now. I tried changing my email address, but I'm just used to it and everybody has it. It's easy. In the morning when I open my email, I generally delete like 20 or 30 emails and then there are five left that I actually need to respond to. A lot of the important things go through my agent and assistant, and I always read their emails.
I'm not super-organized about email or that kind of thing, but at the same time, I think I'm really on top of the creative side of what I'm doing. I know what clothes are coming in, what we have, how I feel about the clothes for the fittings, and what's going to work and what's not — that's all in my head all the time. But my office currently looks like a teenager's bedroom. It's a big mess with piles of stuff everywhere and stacks of paper.
In your creative process, when do you get most excited about what you're working on?
In the beginning of it: requesting clothes and doing the fitting. That's the part I like best, when I'm getting ready for the fitting that will lead to the red carpet — the preparing for it.
Do you have a work uniform?
I wear jeans and sweatshirts or navy sweaters and black pants, basically every day. I have fancy clothes and like to get dressed up for events and stuff, but for work it's one of those two things or a blazer and jeans. I pretty much wear the same thing all the time.
Besides runway shows and photos, where do you get your ideas?
When I have any pause at all I try to book a trip. I think getting out of the day-to-day is the healthiest thing that you can do — to see how other people live, just to be somewhere where the light isn't the same, eat different food, and sleep in different beds. I always have better and weirder dreams when I'm not in my own bed. With my kids too, it's super-important to me that they see different sides of the world. I just did a road trip from Santa Fe to Marfa, Texas, where my husband has a festival every year, and I went skiing in Tahoe this year.
I take lots of pictures, and I really like to keep files of stuff, like ticket stubs and receipts from restaurants, hotel stationery, and maps. I have a flair for stealing menus and DO NOT DISTURB signs in hotels. I imagine someday in the future when I have more time, I'll put them into notebooks or something, but for now it's in envelopes and chronologically stuffed in this box at home in my closet. I open it when I put the next trip's stuff in.
Why do you love what you do every day?
It's such a boring answer, but I really love clothes, and I really love jewelry, and I love shoes, and I get to work with the most spectacular things. It's really fun for me when exceptionally interesting or beautiful stuff is here. I'm excited by it. Coming back to work after Christmas, it's awards season right away and the office is always full of couture. It's sparkles and feathers and diamonds. That's what I'm into.
Any other advice you'd give?
I'm a big proponent of TM. I think meditation is like … meditation can make everything manageable. I do 20 minutes in bed when I wake up, and then I do it on the subway a lot on the way home. Somebody told me their sister saw me sleeping on the train and I was like, I wasn't sleeping, I was meditating! I don't want to make it seem like I'm perfect — I go in and out of it, but it's really great.
This is paid content produced for an advertiser by New York Stories. The editorial staff of The Cut did not play a role in its creation.