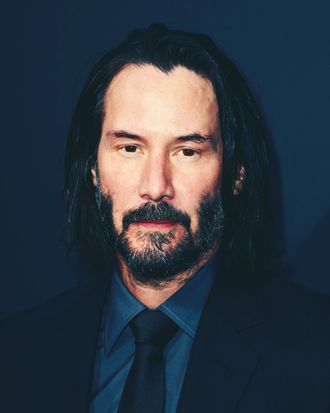 Keanu Reeves, lonely boy.
Photo: Kevin Winter/Getty Images
I have some devastating news. Keanu Reeves, wise, handsome, gentle man and onscreen spree killer, is lonely.
I know, I hate it too.
Reeves made this devastating revelation in an interview with Malaysia's Star2.com. When asked, "What does love mean to you?" the John Wick: Chapter 3 — Parabellum star responded:
You mean romantic love? You know, I'm the lonely guy. I don't have anyone in my life. But if it does occur, I would respect and love the other person; hopefully it'll happen for me.
If you're planning to purchase a ticket to Hollywood with the intention of rushing to Reeves's house and blasting Justin Bieber's 2009 hit "One Less Lonely Girl" outside of his house until he comes out and starts dating you, first of all, calm down, and second of all, get your own idea, that's mine.
The interview was not all bleak though. It also included this anecdote about a girlfriend Reeves had when he was 17, which I plan to summon in my mind's eye when I need to be soothed in moments of stress:
I was 17 and I had an older girlfriend who turned me on to a lot of music. I had this car with these speakers in the back; she turned me on to bands like Joy Division, the Violent Femmes. We would get in the car, drink a little, do this or that, and I'd put the speakers on top of the car, and we'd go to a park and we'd dance.
Sweet boy.
Update: A rep. for Reeves told HuffPost that the actor did not in fact give an interview to Star2.com, and that the story "was pieced together from several interviews and the majority of these questions were not asked nor answered. They are fabricated."