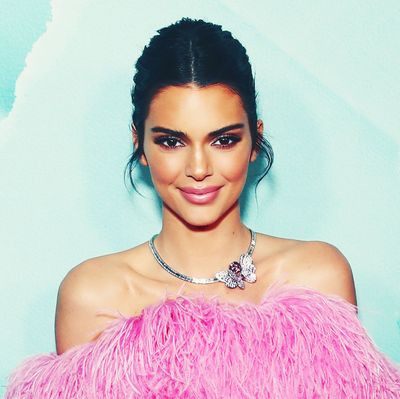 Kendall Jenner.
Photo: Brendon Thorne/Getty Images
Alas, the Kardashian beauty empire is almost komplete. Not but two weeks ago, Kendall Jenner revealed that she had co-created an oral beauty line for prettier teeth, the only uncharted territory left in the domain of Kardashian-Jenner beauty ventures. But that was 14 whole days ago, and now it looks like the model is actually going to launch her own regular beauty line, too.
WWD reports that on May 2, Jenner filed a trademark for "Kendall" and "Kendall Jenner." There's no "Cosmetics" (as in Kylie Cosmetics) or "Beauty" (as in Bieber Beauty) or "Skin" (as in Fenty Skin, Kylie Skin, and Kylie Skin by Kylie Jenner) tacked onto the end, because it seems that this Jenner is up to more than just matters of the face. According the WWD, both of her trademarks were filed under products "across skin, hair, makeup and fragrance, including eau de parfum, hair-care preparations, bath and shower gels, body creams, skin cleansers, beauty masks, deodorant, lip gloss, nail polish and nail-care preparations, among others."
As a face of Proactiv (skin), Moon (teeth), and Formawell Beauty's Runway Series (hair tools), and a model who gets her hair prepared, nails prepared, and lips glossed backstage for Fashion Weeks, she does know a thing or two about literally every type of beauty product category out there. Or maybe she hasn't decided what she truly wants to specialize in yet and will close her eyes, and pick a handful of these options out of a bag and go from there.
Whatever "Kendall" ends up being, I'm so excited and scared to see what happens to the world now that momager Kris Jenner finally has the last Infinity stone to fill her Gauntlet.